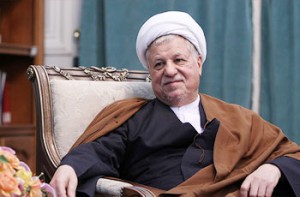 Chairman of the Expediency Council Ayatollah Akbar Hashemi Rafsanjani says the Leader of Ummah is the "most competent" person to resolve the problems that the country is currently faced with.
"I am confident that the ongoing problems can be settled with the help of the Leader of Ummah [Imam Seyyed Ali Khamenei] in cooperation with moderate figures of both [political] parties in the country," the Iranian Labor News Agency quoted Rafsanjani as saying on Saturday.
Rafsanjani added that his "thought, words and action" have always been based on "moderation and avoidance of extremes."
"In expressing my stance [on various issues], I have always attached importance to the interests of Islam, the Islamic Revolution and the Iranian nation," the chairman of the Assembly of Experts added.
"At particular times, I stay silent due to certain inappropriate conditions," he said.
Rafsanjani said the Islamic Republic managed successfully establish stability and steadiness by relying on popular support and the leadership of the late founder of the Islamic Revolution Imam Khomeini.
"All loyal powers to the Islamic Revolution and establishment are now duty-bound to safeguard this heritage and move toward this path," he said.
He said that the modern world would accept Iran's ideas, should all Iranians establish a "developed, free and affluent country without superstitions."
Rafsanjani underlined that the Iranian culture which is based on pure Islam can turn into a role model in the modern world.