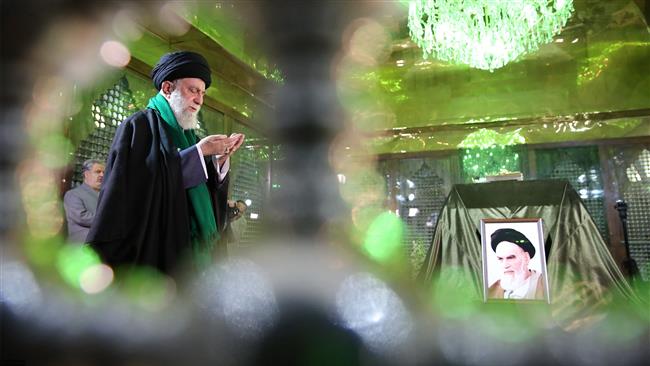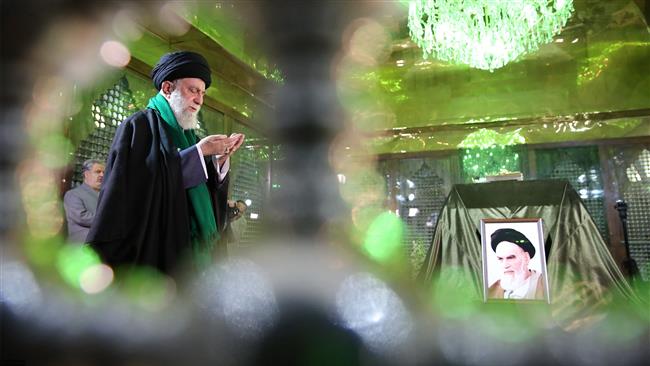 Leader of the Islamic Ummah and Oppressed Imam Ayatollah Seyed Ali Khamenei has paid tribute to the late founder of the Islamic Republic, Imam Khomeini, at the Imam's Mausoleum in Tehran.
Ayatollah Khamenei visited the Imam Khomeini Mausoleum on Wednesday on the eve of the anniversary of the Imam's return to Iran from forced exile by the country's ousted monarchical Pahlavi regime in Paris in 1979.
Iranians hold ten-day-long celebrations every year, starting with the anniversary of Imam Khomeini's return and culminating in the anniversary of the Islamic Revolution's victory.
The Leader then paid his respects to the Iranian martyrs who lost their lives in terrorist operations by the anti-Iran and anti-revolutionary Mujahedin-e Khalq Organization (MKO) and Iraq's 1980-88 imposed war on the Islamic Republic as well as other martyrs.
Also on Wednesday, President Hassan Rouhani and his cabinet ministers similarly attended the mausoleum and the cemetery.
The Iranian chief executive renewed his allegiance with Imam Khomeini's ideals and the martyrs.