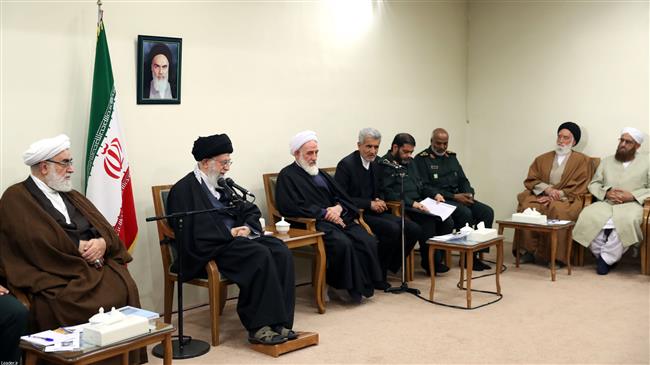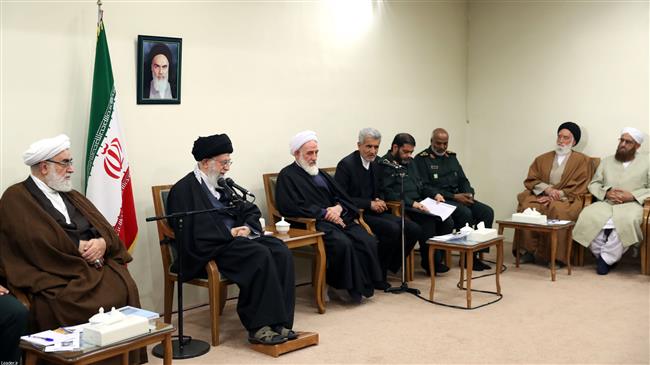 Leader of the Islamic Revolution Ayatollah Seyyed Ali Khamenei has lauded the strong unity among Iran's Shia and Sunni Muslims despite all enemy attempts to sow discord among them.
Ayatollah Khamenei made the remark during a recent meeting in Tehran with a number of officials in charge of a martyrs' congress in Iran's southeastern province of Sistan-and-Baluchestan.
The Leader described Sistan-and-Baluchestan, along with the provinces of Kordestan and Golestan as the embodiment of Muslim unity and a role model of cooperation and brotherly coexistence for all Shias and Sunnis worldwide.
Ayatollah Khamenei further called for vigilance among Muslims against divisive enemy schemes.
The Leader also highlighted the sacrifices of Sistan-and-Baluchestan's Sunni Muslims in defending the country over the past decades, citing the martyrdom of a teenager during the 1980s Iraq-imposed war as well as a cleric at the hands of counter-revolutionary elements as two examples that show "Shia and Sunni brothers in the Islamic Republic are standing shoulder to shoulder on the most arduous fronts."
Thanks to the people's "faith and sacrifices," the Islamic Republic has remained resilient in the face of "modern ignorance" despite the sanctions and the enemies' military and cultural conspiracies, Ayatollah Khamenei noted.
The meeting took place on February 5 ahead of the 39th anniversary of the Islamic Revolution, which was marked across Iran on Sunday.
Also on Tuesday, the Leader pardoned or commuted the sentences of 565 convicts on the occasion of the Islamic Revolution anniversary.