Iran
Leader of Islamic Ummah and Oppressed S.Khamanei Condoles with Nation over Demise of Experts Assembly Chairman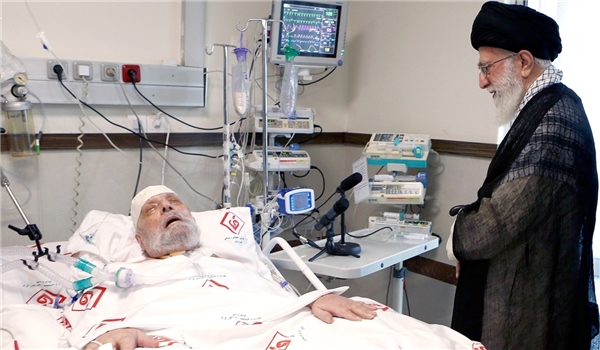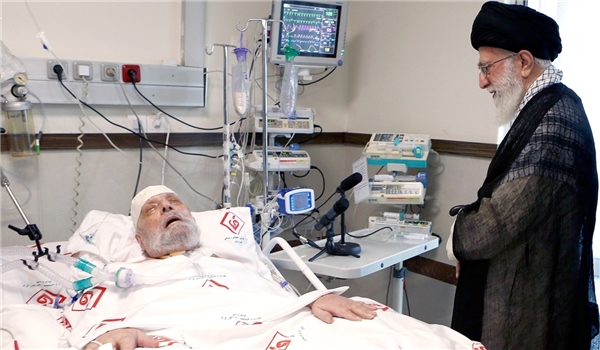 Supreme Leader of the Islamic Revolution Ayatollah Seyed Ali Khamenei in a message on Tuesday expressed his condolences on the demise of the Chairman of Iran's Assembly of Experts Ayatollah Mohammad Reza Mahdavi Kani who passed away in Tehran's Bahman Hospital earlier today.
Ayatollah Mahdavi Kani had been hospitalized after a heart attack since early June and after being transferred to the hospital, he fell into a coma.
Iran's Supreme Leader in his message condoled with Ayatollah Mahdavi Kani's family, Assembly of Experts, the clerical community and the religious seminaries on the sad occasion of his death.
Ayatollah Khamenei will also lead the prayers in the burial ceremony of Ayatollah Mahdavi Kani in Tehran on Thursday.
While in hospital, many Iranian officials, including Ayatollah Khamenei and Iranian President Hassan Rouhani visited Ayatollah Mahdavi Kani.
Earlier today, President Rouhani also in a message expressed his condolences on the sad occassion.
The Iranian president also declared two days of public mourning in the country.
Ayatollah Mahdavi Kani, born on 8 April 1931 in Kan village near Tehran, was a politician, writer and the leader of the Combatant Clergy Association (Rouhanion Mobarez).
His father was also a cleric and taught at Mofid Religious School. After he finished basic education in Kan, he studied at Borhan High School in Tehran. He left for Qom in 1947 to study at a religious seminary. His teachers included the late founder of the Islamic Republic, Imam Khomeini, Grand Ayatollah Seyed Mohammad Reza Golpayegani, Grand Ayatollah Seyed Hossein Boroujerdi and Allameh Seyed Mohammad Hossein Tabatabai.
Career
After the demise of Ayatollah Boroujerdi, Mahdavi Kani went back to Tehran and continued his struggle against the Pahlavi regime, something which he had started since he was 18, during the time of Ayatollah Boroujerdi. He was considerably active and effective in his participation in the Islamic movement of Iran led by Imam Khomeini. Before the Islamic Revolution, he was appointed by the late Imam to the Revolutionary Council and later took up various political and religious positions.
He served as the minister of interior in the cabinet of Mohammad Ali Rajayee. He was reappointed as minister of interior in the successive cabinet of Mohammad Javad Bahonar. He became the interim prime minister on 2 September 1981 after President Rajayee and his Prime Minister Bahonar were assassinated in a bomb blast in Tehran and was in office until 29 October 1981. He was also chairman of the provisional presidential council, after the assassination of President Rajayee and Prime Minister Bahonar. He was also a member of the Constitutional Amendment Council of Iran, appointed by Imam Khomeini to review and amend the Constitution of Iran in 1989. He was also elected as member of the assembly in 2008 in a by-election from Tehran.
Ayatollah Mahdavi Kani was the founder and head of Imam Sadegh University in Tehran, a university specializing in humanities.
He was elected as chairman of the Assembly of Experts on 8 March 2011 after the term of the former chairman, Akbar Hashemi Rafsanjani, came to an end. Rafsanjani nominated for a new term, but he withdrew as soon as Mahdavi Kani declared his candidacy. In March 2013 he was reelected to the post for another two years.
Works
Some of his published works are: The Beginning Points in Practical Ethics; the Origins and Basis of Islamic Economy and the Book of Beest Goftar (20 Discourses).