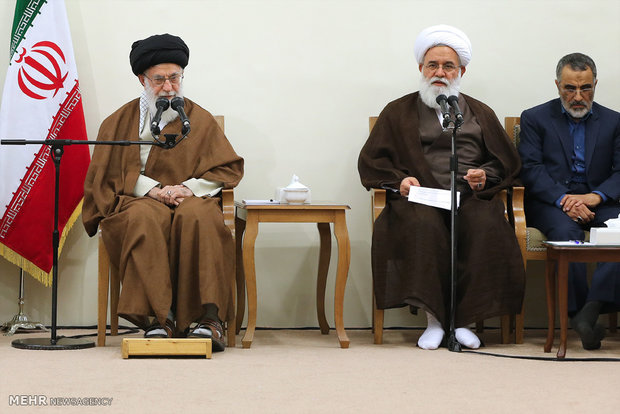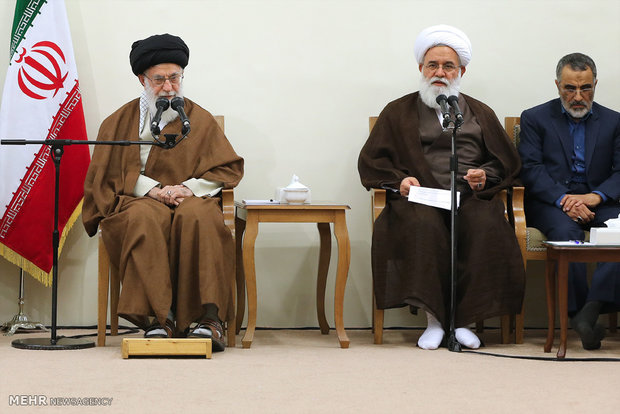 Meeting with the organizers of Mostafa Khomeini Congress, Leader of Islamic Revolution Ayatollah Khamenei hailed the positive merits of the late figure's character.
Officials and organizers of the Congress in Commemoration of Ayatollah Seyyed Mostafa Khomeini's Scholarly and Revolutionary Works met with Iranian Leader Ayatollah Seyyed Ali Khamenei on Sunday morning, in Tehran.
"He was unique for his scholarly talents, courage, and manner of resistance," said the Iranian Leader on Mostafa Khomeini's personality.
In the meeting, Ayatollah Khamenei expressed his gratitude for the organization of the congress and described the deceased Ayatollah Seyyed Mostafa Khomeini, as having an extraordinary personality from different dimensions, adding "he was a unique person in terms of scientific talent and courage, self-purification, bravery and fighting manners, and the introduction of his scientific status and thoughts into society and today's generation is very good and desirable."
Ayatollah Khamenei referred to the influential position of the late Hajj Sayyid Mostafa Khomeini on the important event of Imam Khomeini's arrest in 1963, he added "at that time, he did a great and courageous act and managed to lead the people's movement by gathering a group of fighters in the courtyard of Hazrat Masoumeh's shrine."
The Supreme Leader of the Islamic Revolution also mentioned that the mysterious death of Hajj Sayyid Mostafa Khomeini, on October 23, 1977, prepared the grounds for a wave of movement by the people. Furthermore, he stated "the manner in which Imam Khomeini confronted this painful loss, one he considered to be a covert divine blessing, revealed part of the great personality of Imam Khomeini by the way he withstood this tragedy and his patience."
The Supreme Leader of the Islamic Revolution also mentioned that the mysterious death of Seyyed Mostafa Khomeini, on October 23, 1977, prepared the grounds for a wave of movement by the people. Furthermore, he stated "the manner in which Imam Khomeini confronted this painful loss, one he considered to be a covert divine blessing, revealed part of the great personality of Imam Khomeini by the way he withstood this tragedy and his patience."
Referring to the self-purification and spiritual tendency of the late Seyyed Mostafa Khomeini and his simple lifestyle and piety, Ayatollah Khamenei pointed out, "although he was the son of a great, well-known person, Imam Khomeini, he was extremely humble."
He went on to say, "the late Hajj Seyyed Mostafa Khomeini loved Imam Khomeini very much and stood up to anyone who degraded his father's personality."