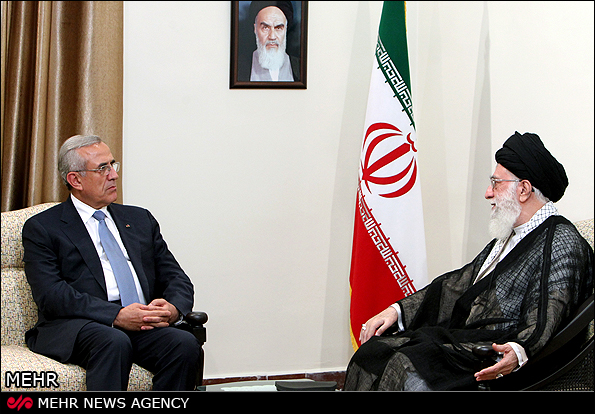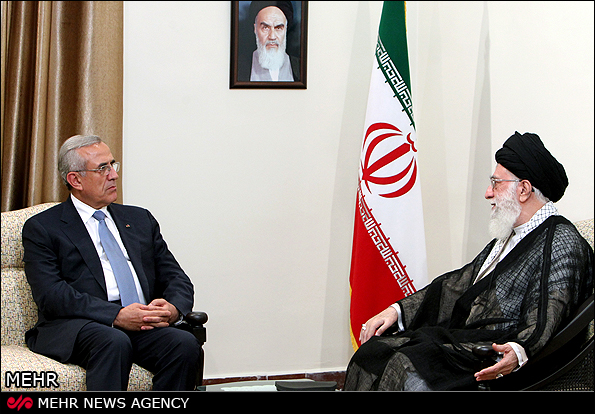 Leader of the Islamic Ummah and Oppressed People Ayatollah Sayyed Ali Khamenei stressed during his meeting with President Michel Suleiman that Lebanon is an important and sensitive country in the region, considering that national dialogue in Lebanon is the right policy.
Sayyed Khamenei told the Lebanese president ahead of the NAM summit that "some parts inside and outside Lebanon are hiding plots for it, but the president, prime minister, and parliament speaker dealt correctly with the issue, and this is something that should be preserved."
Moreover, his eminence stated that "the Lebanese leaders and figures were able to solve many problems amid the many raised religious and sectarian differences as well as the support of the resistance."
"Some foreigners are trying to drag some of the regional problems into Lebanon, but the Lebanese sects and parties could frustrate these movements by relying on the resistance," the Iranian leader added, highlighting "Iran's opposition to any foreign intervention in Syria," and that "the only solution for the Syrian case is halting arms supplying to irresponsible groups there."
For his part, President Suleiman emphasized the necessity of taking unbiased decisions, which would bring peace and stability to the people and countries.
He hoped that the NAM summit in Tehran would come out with practical and positive solutions for several issues like the Palestinian cause, and stressed the importance of putting more effort in developing the bilateral relations between Lebanon and Iran.
Additionally, the Lebanese president discussed with Sayyed Khamenei the situation in Lebanon and the defense strategy talks, considering that "Lebanon is still in need for the resistance," and clarifying that the Lebanese government will make efforts to prevent foreign tension from entering into Lebanon."
On the Syrian issue, President Suleiman asserted that "Lebanon opposes and foreign intervention in the Syrian affairs," indicating that "Syrian issues should be solved by dialogue."