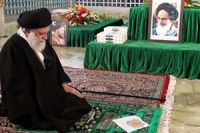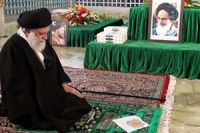 Concurrent with the 34th anniversary of the victory of the Islamic revolution, the Leader of the Islamic revolution attended late Imam Khomeini's mausoleum to mark his name and memory.
According to the Fars news agency, having attended the shrine of Imam Khomeini (God's mercy upon his soul), Ayatollah Seyyed Ali Khamenei recited Surah Fatiha of the holy Qur'an for the Imam and prayed.
The leader of the Islamic revolution also paid a visit to the Behesht-e-Zahra cemetery to mark the memory of the martyrs of the Islamic revolution and the eight year war imposed by the US and its accomplices through their puppet Saddam.
Meanwhile, President Mahmoud Ahmadinejad and his cabinet members paid tribute to the Founder of the Islamic Republic of Iran, the late Imam Khomeini on Tuesday morning.
They visited the mausoleum of the Late Imam in southern Tehran and renewed their allegiance to his sublime ideals.
They also visited tombs of a number of martyrs of the Islamic Revolution.