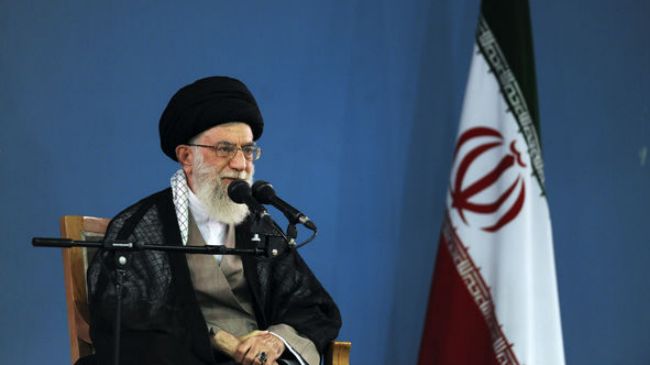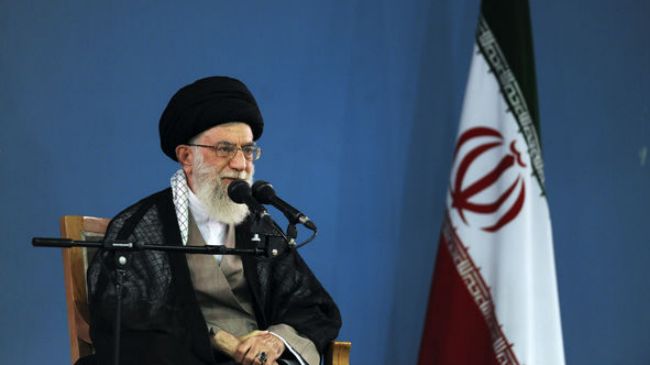 Leader of the Islamic Revolution, Ayatollah Seyyed Ali Khamenei supported the diplomatic move of the government.
According to IRIB World Service quoting the bureau of preservation and publication of the leader's works, Ayatollah Seyyed Ali Khamenei said in the ceremony of the new graduates of the Iranian army in Martyr Sattari University southwest of Tehran, "We support the diplomatic move of the government and take it important. Although in our opinion some of the things that happened were unduly, we are optimistic about the government's diplomatic delegation."
The leader of the Islamic Revolution added, "We are pessimistic of the Americans and have no trust in them; the US government is not reliable. It is supercilious, illogical and breaches the covenants. It is captured by the international Zionism. That's why it is forced to connive with the Zionists and be lenient to them."
Elsewhere in his remarks Ayatollah Khamenei stated, "The US government moves in the direction of the Zionists' interests. It blackmails the whole world and pays the toll to the Zionist regime."
Stressing that the Iranian nation has never been a threat to any country and considering robustness of armed forces as the most important factor for preserving the Islamic system, the leader of the Islamic revolution added, "Armed forces including the army, IRGC, Basij and the police should be a firm fortress against the enemies' plots."
The Commander-in-Chief of the armed forces pointed to the repeated disgusting threats of the Iranian nation's enemies saying, "All those who have got used to verbally threaten Iran should know that any evilness against the Iranian nation would face serious and tough response."
Ayatollah Seyed Ali Khamenei also said, "The Iranian nation has showed both its staunchness for defending its causes and interests and the inclination to peace and coexistence, for; these two are beside each other."
The leader of the Islamic revolution glorified the bravery and valor of the armed forces especially the air force during the 8-year imposed war and remembered with glory the memory of the martyrs.