Imam Ali Khamenei
Iran
Leader of the Islamic Ummah and Oppressed People Imam Sayyed Ali Khamenei emphasizes on struggle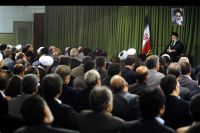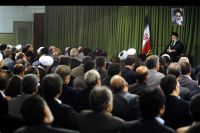 Leader of the Islamic Ummah and Oppressed People Imam Sayyed Al Khamenei stressed, "Since the day the policies of resistance economy were announced, individuals from different organizations supported and praised these policies but praising is not enough and there should be practice."
Leader of the Islamic Ummah and Oppressed People Imam Sayyed Al Khamenei said to a number of visiting lawmakers on Sunday, "The Islamic system emerged and stayed firm through struggle; we should be careful. Struggle continues in all arenas including economy, policy making and negotiations."
The members of Iranian parliament went to visit the leader and benefit from his constructive guidelines as an annual tradition that takes place after the selection of the presiding board.
The Iranian lawmakers determined the presiding board in the open session on Sunday.