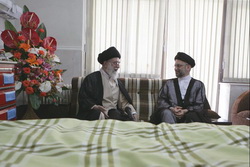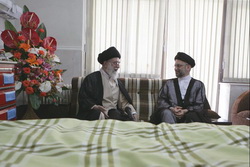 Supreme leader of the Islamic Revolution on Thursday expressed his grief and condolences on the death of the head of the Supreme Iraqi Islamic Council (SIIC) Abdul Aziz Hakim.
Abdul Aziz Hakim, who was under medical treatment in a Tehran hospital for lung cancer, died wednesday evening.
Imam Ali Khamenei the Supreme Leader of the Islamic Revolution issued a message expressing his condolences over the demise of Sayyid Abdul Aziz al-Hakim. The full text of the message is as follows:
In the Name of Allah, the Beneficent, the Merciful
I received the sad news that the leader of the Supreme Iraqi Islamic Council Mr. Abdul Aziz al-Hakim has passed way.
This is a great loss for the people of Iraq and the Iraqi government and also a painful loss for the Islamic Republic of Iran. He was the last of the late Shia Marja Ayatollah Sayyid Muhsen al-Hakim's children who were all either martyred in their fight against the blood-thirsty Iraqi Baath regime and the mercenaries of the global arrogance or went through difficult tests in this great jihad.
The services of this mujahid clergyman in forming a national government in Iraqi, both during his stay in Iran and after the collapse of Saddam Hussein's government, were unique and unforgettable.
I express my deep sorrow over this tragic loss and sincerely offer my condolences to our Iraqi brothers, the government of Iraq, the Supreme Iraqi Islamic Council, and the family and brave children of Mr. Abdul Aziz al-Hakim, particularly his son Mr. Sayyid Ammar al-Hakim. I also pray to Allah to bestow His mercy and remission on the late Mr. Abdul Aziz al-Hakim and to bestow honor and progress on the Iraqi government and people.
Sayyid Ali Khamenei
Shahrivar 5, 1388
Ramadan 6, 1430