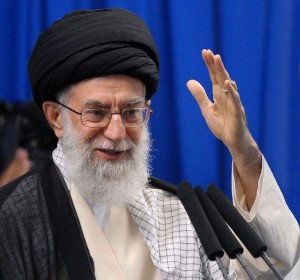 The Leader of the Islamic Revolution Ayatollah Seyyed Ali Khamenei has dismissed US claims about the Iranian missile threat and the country's controversial nuclear program.
"Such claims are made in line with the policy of Iranophobia while the Islamic Republic of Iran has not attacked any country over the past 30 years [after the victory of the Islamic Revolution]," the Leader said in a meeting with Iranian officials and ambassadors of Muslim countries in Tehran on Sunday.
"Claims that Iran is producing nuclear weapons are lies against the Islamic establishment. Because of its Islamic beliefs, Iran prohibits the production and use of nuclear weapons," added the Leader.
"American authorities are aware of this issue but they repeat their allegations in line with their policy of Iranophobia."
Ayatollah Khamenei urged the US government to "correct this policy" and said, "The Iranian nation with its vigilance sees these hostilities and will not be back down."
"The Islamic establishment will not remain silent in the face of an attack on the Iranian government and people," stressed the Leader.
Ayatollah Khamenei made the remark as Iran and the five permanent members of the UN Security Council — Russia, China, Britain, France and the US — plus Germany (P5+1) are preparing for holding wide-ranging talks on October 1 on global issues along with Tehran's much-debated nuclear program.
Iran faces pressure to halt its nuclear enrichment, as Western countries, spearheaded by the US and Israel, claim its program is aimed at building a nuclear bomb.
Tehran, however, has denied seeking nuclear weapons and has called for the removal of all weapons of mass destruction from across the globe.
In his Sunday remarks, Ayatollah Khamenei stressed the importance of strengthening unity among Islamic nations, saying, "If Muslim nations were united and made use of their political and geographical capabilities…bullying powers would not be able to force their plans on Muslim governments."
"The Iranian nation is a pioneer in fighting the Zionist regime [Israel] … This regime is a phony regime which has destroyed a nation and the defenders of human rights have closed their eyes to its [Israel's] blatant acts of cruelty and crimes," Ayatollah Khamenei concluded.