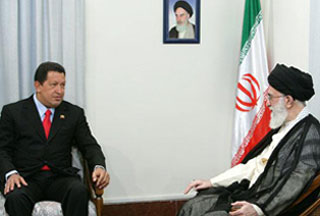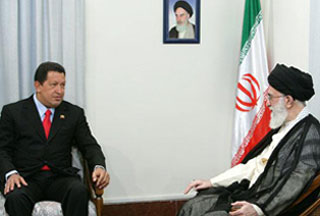 The Leader of the Islamic Revolution Imam Ali Khamenei says the repeated US failures in different countries and the loss of its influence both indicate the undeniable fact of world change.
"The US had far greater failures in the Islamic Republic of Iran than in Iraq, Afghanistan, Lebanon and Palestine," said Imam Khamenei in a meeting with visiting Venezuelan President Hugo Chavez on Sunday.
The Leader touched upon changing the situation in Latin America and said, "A power has been formed in this region which was once regarded by the US as its courtyard."
Iran and Venezuela should make efforts to prepare the grounds for strengthening their independence, said the Leader.
"Along with political coordination, Iran and Venezuela should enhance industrial, economic, banking and transportation cooperation," Ayatollah Khamenei added.
Tehran and Caracas had previously signed an array of agreements, pledging to work together in oil exploration, building low-income housing and assembling tractors and bicycles as well as military projects among other ventures.
Chavez, who is on his seventh official visit to Iran, hailed positive talks between the high-ranking Venezuelan delegation and Mahmoud Ahmadinejad and other senior Iranian officials.
The Venezuelan president, a vocal critic of the global capitalistic system, said that enhanced cooperation and unity between the two countries would be the only way to fight against enemy plots.
Venezuela has been a vociferous defender of Iran and its nuclear program as Western countries, spearheaded by the US, accuse Iran of pursuing a nuclear weapons program and demand a halt to the country's uranium enrichment activities.
Tehran, however, denies all such allegations and has called for the removal of weapons of mass destruction from across the globe.
The Venezuelan president visited Libya, Algeria and Syria before coming to Iran. He is also scheduled to go to Belarus, Russia, Turkmenistan and Spain after his Tehran visit.