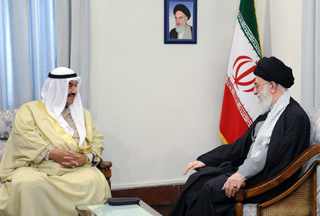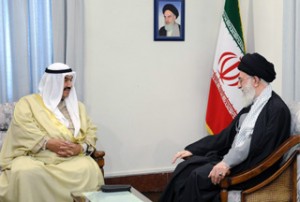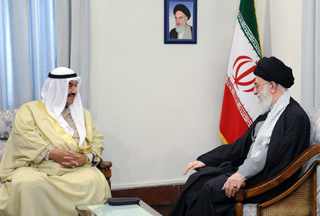 The Leader of the Islamic Revolution says Persian Gulf states should rise up against the enemy's hostile desires and move toward having much more influence on international politics.
Speaking in a meeting with Kuwaiti Premier Sheikh Nasser Mohammed al-Ahmad al-Sabah on Sunday, Ayatollah Seyyed Ali Khamenei called for greater cooperation between Muslim countries and Persian Gulf littoral states.
Referring to the 'immense natural wealth' of these countries, the Leader said Persian Gulf states "should move toward holding a better position with regards to scientific and financial progress along with decision-making in the international arena."
"This can only be achieved through cooperation," Ayatollah Khamenei explained.
"However, such cooperation has certain enemies," the Leader cautioned. "But each country should act considering its national interests."
Sheikh Nasser Mohammad al-Ahmad al-Sabah who is on a two-day visit to Tehran at the invitation of Iran's First Vice President Mohammed-Reza Rahimi, described Iran-Kuwait relations as having profound roots in history, culture and religion.
"The Islamic Republic has proven its good will to the people of Kuwait through its support during the Iraq-launched [Persian] Gulf War," the Kuwaiti premier said.
He also added that Kuwait's 'nay vote' to a recent non-binding sanction resolution adopted by members of the United Nations human rights committee against Iran was a sign of Kuwait City's support for the Tehran government.