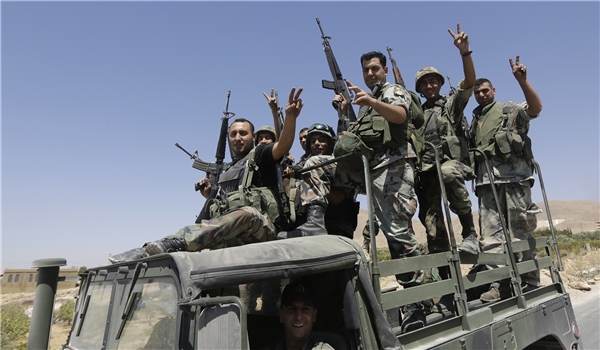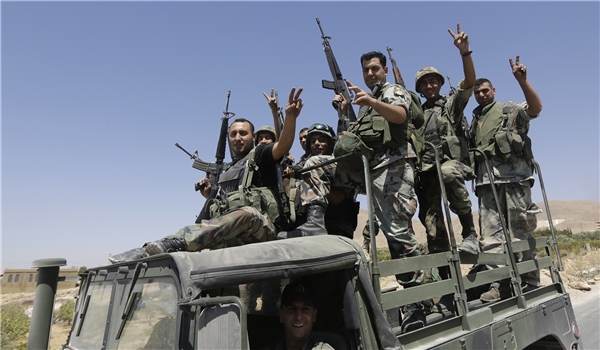 The Lebanese Army soldiers captured several heights and positions at the end of the second day of the Down of al-Jaroud operation in the mountains along the border with Syria on Sunday, inflicting heavy casualties on the terrorists.
The army men, backed up by artillery and missile units, pushed ISIL back from the regions of Khirbet Davoud and Khirbet al-Tineh in Ra'as Ba'albak heights on the second day of the Dawn of al-Jaroud Operation.
In the meantime, the army men imposed control over Jabal (mound) al-Khashan after hours of non-stop clashes with ISIL, ending the second phase of its operation in the mountainous region.
Field source said that the army is preparing for the third phase of Dawn of al-Jaroud operation.
Army sources said on Saturday that the Syrian and Lebanese Army troops along with Hezbollah fighters launched a large-scale operation against ISIL in border heights this morning,
Lebanese Armed Forces Commander General Joseph Aoun announced that his forces' anti ISIL operation codenamed Fajr (Dawn of) al-Jaroud was launched in Ra'as Ba'albak and al-Qa'a heights at Northern borders with Syria.
In the meantime, the Lebanese army's artillery and missile units and choppers targeted ISIL's positions near Ra'as Ba'albak.
The Arabic-language al-Mayadeen, meantime, reported that ISIL's casualties in Ra'as Ba'albak and al-Qa'a stand at 1,000.
In the meantime, the Syrian soldiers and the Lebanese Hezbollah kicked off their joint operation codenamed "If You Return We Will Return Again" in al-Jarajeer and Qareh heights in the Western, Northern and Eastern directions of the Western Qalamoun region at the border with Lebanon.