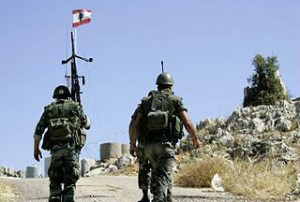 Lebanese Army on Saturday foiled an attack on the international security forces of the United Nations Interim Forces (UNIFIL) in the south of Lebanon.
Intelligence Bureau of the Lebanese military identified and arrested four members of the terrorist group who had a large quantity of explosive materials in Majd al-Anjar region in the south, Lebanese security forces told al-Menar TV network.
The sources said that the members of the terrorist group were arrested in an operation on Saturday.
Investigations were continued about the terrorist group and their related elements in this regard.