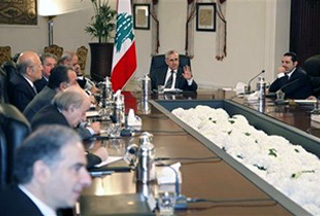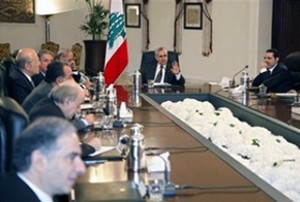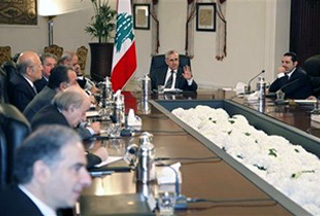 Lebanon's rival political factions agree on a national defense strategy in a new round of talks hosted by President Michel Sleiman.
Nearly 20 party leaders and parliamentarians met at the presidential palace to hold the reconciliation talks established as part of a ceasefire deal that put to rest the 2008 clashes waged by some Sunni groups against the Hezbollah resistance movement.
The conflict, which left more than 80 people dead and pushed the country toward the brink of a civil war, erupted over efforts by the US-backed Prime Minister Fouad Siniora to shut down Hezbollah's private telecom network.
The West has been pressing the Beirut government to force Hezbollah to lay down its arms in order to relieve great worries on the part of the Tel Aviv regime, which suffered a major blow in its massive 2006 offensive against Lebanon at the hands Hezbollah forces.
But the Islamic movement has been resisting such pressures by the West and its Lebanese allies, insisting that its weapons are crucial in confront the persistent and growing threats from the Tel Aviv regime, which has been violating the Lebanese airspace on a regular basis.
Meanwhile, media reports have described the Tuesday meeting as revolving more around a national dialogue than an effort to disarm Hezbollah. Al-Jazeera also quoted sources close to the Lebanese Prime Minister Saad al-Hariri as describing the talks as very positive and constructive.
Hezbollah supporters point out to the fact that the Lebanese army is not very well equipped to face an Israeli aggression and highlight the significance of the need for a complimentary relationship between Hezbollah and the Lebanese armed forces.
Since 2008, several rounds of talks have been held in hopes of reaching an agreement on a national defense strategy that would integrate Hezbollah's weapons into the regular armed forces.
On Monday, Hezbollah's deputy chief Sheikh Naim Qassem reiterated the Islamic movement's determination to keep its arms.
On Tuesday, President Sleiman's office issued a statement saying the main issue on the agenda was a "national defense strategy that would unite national capabilities for defending the country."