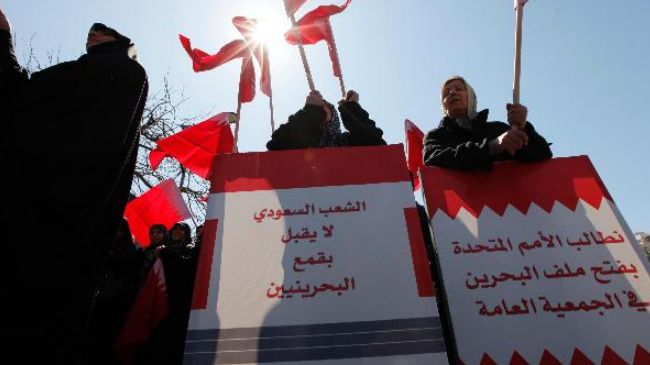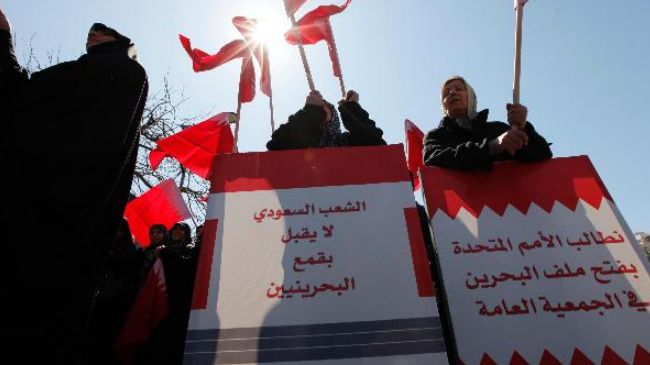 Lebanese people have gathered outside the United Nations headquarters in the capital to protest against what they called the international body's muted response to the suppression of protests in Bahrain.
Expressing solidarity with anti-government protesters in Bahrain, Lebanese demonstrators condemned Manama's brutal crackdown on protesters on Monday and demanded a fair UN response.
They also shouted slogans against Saudi Arabia for its involvement in the Bahraini crackdown.
"Saudi forces involved in the suppression of the revolution and the demolition of mosques in Bahrain," read a placard.
Bahrain launched a brutal crackdown on peaceful protesters in March last year with the help of Saudi troops. But Arab countries and the West turned a blind-eye to the events unfolding in Bahrain and imposed a media blackout on reporting nationwide anti-government protests in the country.
Bahrainis have been staging demonstrations since mid-February 2011, demanding political reform and a constitutional monarchy, a demand that later changed to an outright call for the ouster of the ruling Al Khalifa family following its brutal crackdown on popular protests.
Scores of people have also been killed and many others have been injured in the Saudi-backed crackdown on peaceful protesters in Bahrain.