Lebanon
Lebanese leaders denounce violent anti-lockdown protests in Tripoli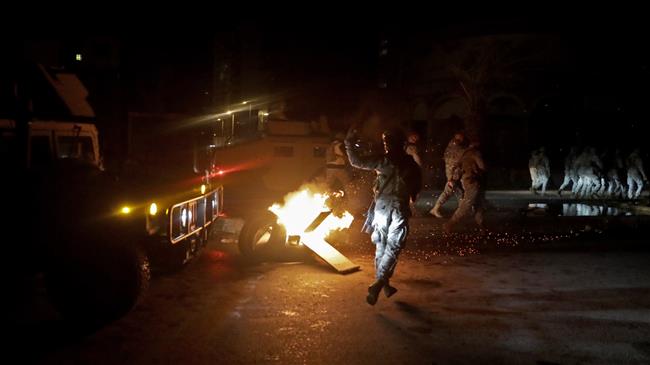 Lebanese caretaker Prime Minister Hassan Diab and President Michel Aoun have condemned violence and clashes in the northern city of Tripoli between security forces and demonstrators angered by a strict coronavirus lockdown that has exacerbated a chronic economic crisis.
"The criminals who set the municipality on fire and attempted to burn the court… represent a black hatred for Tripoli," Diab said in a statement.
"We promise to work quickly to restore the municipality building of Tripoli so that it remains an expression of its dignity and pure heritage," he added.
"The challenge now is in defeating these criminals by arresting them one by one and referring them to the judicial system," Aoun also said in a separate statement in condemnation of the violence.
The Lebanese Army's Directorate of Orientation announced in a statement on Friday that it had arrested five people involved in the overnight torching of Tripoli's municipal building.
In the statement, the army said three suspects – two Lebanese nationals and a Syrian citizen – were present inside the building when they were detained.
Lebanese army forces arrested two other people in the Bab al-Tabbaneh area and the Miten Street area on suspicion of preventing firefighters from reaching the burning municipal building and taking part in rioting.
The Army Command noted that three soldiers were injured in Thursday's incidents, emphasizing that "military units are sparing no effort to preserve security and stability in Tripoli and the rest of the Lebanese territories."
One person has died and more than 250 others have been injured in Tripoli during straight nights of unrest this week.
On Friday afternoon, a number of young men gathered outside the government's main building in Tripoli, pelting security forces with stones as some of them chanted "We're Hungry, We Want to Eat!"
Security forces, in return, fired tear gas to disperse the protesters as army troops deployed around the city's Abdul Hamid Karami Square, which is also known as al-Nour Square.
The soldiers later intervened and pushed protesters away from both sites, sending them to neighboring streets after which they pelted the troops with stones.
Former Prime Minister Najib Mikati warned on Friday that should the army prove unable to control the situation in his hometown quickly enough, dangerous disorder could set in.