Iran
Middle East
Saudi Arabia
Lebanese Paper Reveals Details of Saudi-US Plot against Iran
A leading Lebanese newspaper revealed that Saudi Arabia had two years ago proposed a plan to the US to confront Iran and overthrow its government through pressures.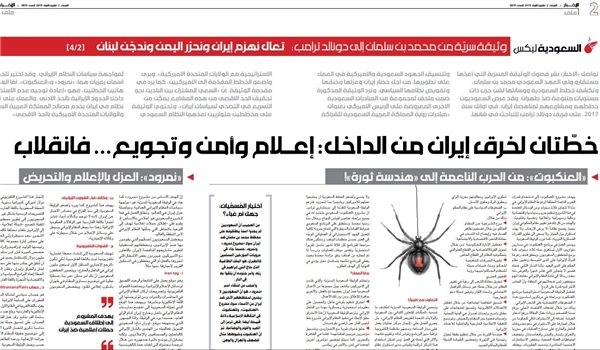 The Arabic-language al-Akhbar paper, which had earlier revealed the Saudi-US plan to topple the government in Iran released more details of the plot on Wednesday.
Based a top secret document obtained by the newspaper, Saudi Arabia had proposed two plots to attain its goals against Iran, namely Spider and Nimrod.
The Spider plan centered on soft warfare in political, economic, financial, cyber, media, psychological and legal grounds to destabilize Iran in three years and enforce a regime change, the paper said.
According to al-Akhbar, the other plot, Nimrod, focused on encountering Iranian policies and what it called as continued international isolation of Iran by using the media power and operation of an increasing number of Persian-language TVs.
Saudi Arabia is now funding the London-based Persian-language TV channel 'Iran International'.
Last September, Iran's Embassy in Britain filed a lawsuit against the 'Iran International' at the UK's communications regulator Ofcom over the channel's support for a terrorist group involved in the attack on a military parade in the city of Ahwaz in Southwestern Khuzestan province.
"The Iranian embassy in London has taken its official lawsuit to 'Ofcom' (asking it) to investigate the Iran International TV channel's illegal move to broadcast an interview with the spokesman of the (al-Ahwaziyeh) terrorist group," Iranian ambassador to London Hamid Baeedinejad wrote on his Twitter last year.
The 'al-Ahwaziyeh', which receives support mainly from Saudi Arabia, is the terrorist group which claimed responsibility for the September 22, 2018, attack on a military parade in Ahwaz, Southwest of Iran, killing 26 and wounding 69 others.
Shortly after the attack, the London-based TV channel Iran International allowed the terrorist group's spokesman to go live on air to justify their heinous crime.