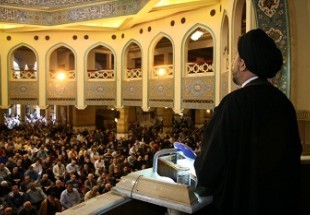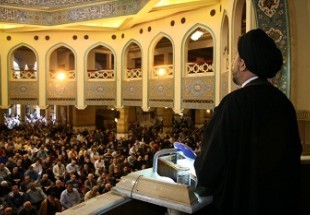 Friday prayer leaders in Lebanon denounced execution of Saudi Shia cleric, Sheikh Nimr, calling that in contrast with the teachings of Islam.
Shiekh Maher Hamoud, secretary general of the International Union of Resistance Scholars, in his Friday sermon in Sunni mosque of Sidon, criticized claims over cooperation of Lebanon with Saudi Arabia calling that a demand for ignoring the criminal measures by the Arab kingdom, reported Taqrib News Agency (TNA).
He said," Saudi rulers are fueling the sectarian and ethnic clashes through outbreak of war in Yemen and intensification of chaos in Syria."
Sunni cleric stressed," Saudi rulers are creating a great intrigue for which they have spent lots of their funds and hired their allied media, an intrigue with cooperation of court religious leaders who worsen the depth of the intrigue."
Calling the Saudi rulers as a constant part of the US plots in the region, the scholar demanded how can Saudi rulers recognized themselves as Sunni Muslims when they are part of the massacre of the civilians in Yemen and Syria?
Sheikkh Maher Hamoud concluded that a Sunni Muslim has to prioritize freedom of Palestine and Al Quds and also confrontation with the Zionist regime as his top priority and does not take any measure against resistance, respects other Islamic denomination and does not allow the bloodshed of other Muslims.
Hujjat-ul-Islam Seyyed Ali Fadhl Allah, Beirut Friday prayer leader, in his Friday sermon held in Imamein Hassanein (AS), expressed concern over the present situation in Lebanon and said foreign insecurity and issues should not penetrate into the domestic issues of Lebanon.
He added," The recent issues in the world of Islam and wrong measures taken by Saudi rulers has left a negative effect on the domestic talks of Lebanon, the only hope for the people."
Fadhl Allah, also denounced the execution of Sheikh Nimr and stressed," Carrying out the death sentence was an inhumane measure demanding where in the world is a criticism of an oppressive government punished with death?"
He said Sheikh Nimr will always be recognized as a symbol of confrontation with tyrants.
Ayatollah Afif Nablosi, prayer leader of Sidon in his sermon in Hazrat Zahra (AS) mosque, slammed dispersing plot by coalition of Turkey, Saudi Arabia in the region and said," Following the failure of Qatar, KSA, Turkey, US and Zionist regime plot in Syria, the coalition tried to claim back its fame by sending humanitarian aids to Syria border areas." Adding," This is while these countries made all out efforts to collapse Syrian government in the past five years."
Lebanese cleric also criticized the so-called coalition for their heinous nature against Iran and resistance countries by spread of lies and their efforts to improve their dark record through pseudo-humanitarian measures.
Ayatollah Abdul Amir Kabalan, deputy of the Supreme Shia Parliament, prayer leader of Beirut, called judiciary as a source for performing justice and said," Execution of Nimr means that Saudi judiciary is diverted from its mission to prevail justice."
He called Nimr as a scholar who voiced his anger through a peaceful protest and performing the unjust death sentence for the Shia scholar was a crime away from law and Sharia.
Lebanese cleric stressed that judiciary should not abide by the ruling government rather it should issue sentences based on the law and Sharia saying," Judiciary should be an independent entity away from political issues."
Ayatollah Kabalan noted that participation of representatives from different denominations can pave the way for performing justice in courts and judiciary centers."
He concluded that Sheikh Nimr was innocent tried in an unjust court about whom sentence for a criminal was performed demanding for investigation and trial for all those who had a role in execution of the Shia scholar.