Lebanon
Middle East
Palestine
Lebanese Protesters Burn Zionist Regime Flag During Anti-Gov't Demonstrations
Lebanese protesters have burnt Israeli flag during their anti-government demonstrations on Monday, as the country has been rocked by nationwide rallies in recent days against rising inflation and living costs.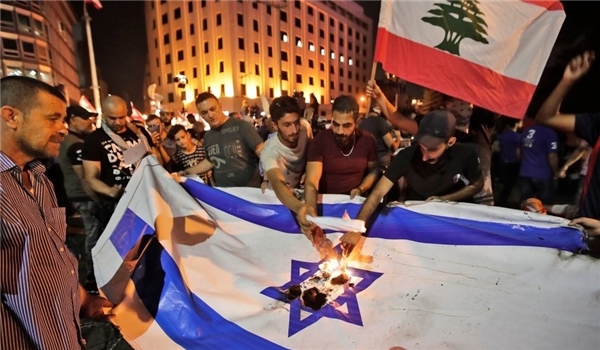 The rallies on Monday were marred by at least three incidents of flag-burning. During the protests in the Southern Lebanon, demonstrators were filmed burning Israeli flags in the densely populated cities of Sour (Tyre) and Nabatieh. At the heart of downtown Beirut, Israeli flags were also burnt by people in the Riad Al-Solh Square.
Since last Thursday, thousands of protesters have gathered in the streets, blaming the faltering economy on widespread corruption and abuse of privileges among politicians.
Lebanon's President Michel Aoun has expressed solidarity with the protesters who have flooded the streets of the country in recent days, saying their agitation shows "people's pain".
"What is happening in the streets expresses people's pain, but generalizing corruption (charges) against everyone carries big injustice," Aoun's office quoted him as saying during a cabinet session on Monday.
Aoun also noted that the government must at least begin by lifting banking secrecy from current and future ministers, the office of the Lebanese president added in a tweet.
On Monday, Lebanese Prime Minister Saad al-Hariri stated that the cabinet has approved a raft of economic reforms, including halving ministers' wages, and agreed on the 2020 budget in a bid to tackle fiscal crisis and put an end to the nationwide demonstrations that have entered the fifth day.
Speaking at a press conference at Baabda Palace near the capital Beirut, Hariri said among the most important reforms is the approval of the 2020 state budget envisaging a deficit of 0.6 percent.
The government also agreed not to impose new taxes on citizens, with the central bank and financial institution set to participate in the deficit-reduction through an amount of 5.1 trillion Lebanese pounds ($3.4 billion), the Lebanese prime minister noted.
Hariri further added that that there was an agreement that the salaries of former and current lawmakers and ministers should be cut by 50 percent, and that looted public funds should be returned.
The government will provide healthcare for the elderly, and pump an additional 20 billion Lebanese pounds ($13.2 million) for the support of the most vulnerable people, speed up licensing for power plants, reduce power cuts by 50 percent next year and allocate 165 million dollars for housing loans, Hariri announced.
Secretary General of the Lebanese Resistance Movement Hezbollah Seyed Hassan Nasrallah on Saturday noted that he was against calls for the resignation of the government, vowing not to allow anyone to "burn" Lebanon and cause chaos in the country.
Nasrallah also stated that the Hezbollah party was "determined to work hard" to solve the country's problems and "not allow anyone to drown this country and take it to the abyss".