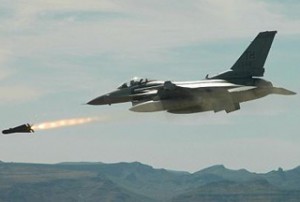 The Lebanese army says its anti-aircraft artillery has opened fire at two Israeli warplanes, which had violated the country's airspace.
The army said the two fighter jets were detected flying at medium altitude and that two other Israeli warplanes also flew over southern and northern Lebanon earlier in the day.
Although Lebanon's army publishes almost daily reports of Israeli violations of the country's airspace, the military rarely opens fire on the Israeli warplanes.
The United Nations Interim Force in Lebanon (UNIFIL) had earlier warned about Israel's violation of Lebanese airspace saying they were in breach of UN Security Council Resolution 1701, which ended a 33-day Israeli war against Hezbollah in southern Lebanon in the summer of 2006.
The latest violations come while the Israeli military is conducting Turning Point 4 in 68 different towns and cities – a move viewed by analysts as an indication of another Israeli aggression in the region.
The secretary general of Lebanon's Hezbollah resistance movement, Seyyed Hassan Nasrallah, vowed on Tuesday to respond to any renewed Israeli offensive on Lebanese territory.
"If we are targeted, we target them as well. [If] we are killed, we can kill. [If] we are forced to leave our homes, we force them to leave their homes. [If] we are confronted, we confront them and so they will have a real problem," Nasrallah said.