Lebanon
Lebanon govt. gives investigative committee four days to find those responsible for Beirut blast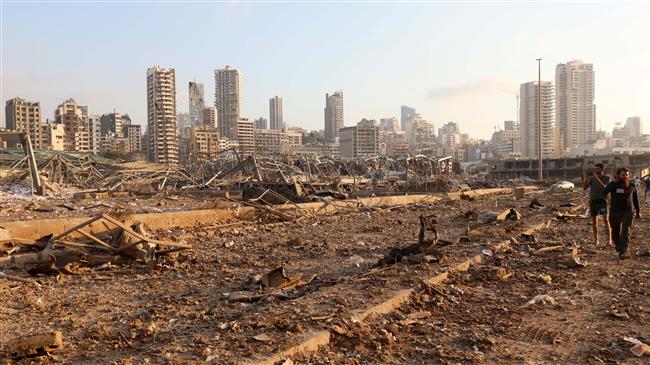 Lebanese Foreign Minister Charbel Wehbe says the government has given four days to an investigative committee probing the massive explosion that ripped through the capital, Beirut, to determine responsibility for the devastating disaster.
"This morning, a decision was taken to create an investigative committee, which in four days' maximum must provide a detailed report on responsibility — how, who, what, where? There will be judicial decisions," Wehbe told Europe 1 radio station on Thursday.
"It is serious, and we take it seriously. Those responsible for this horrible crime of negligence will be punished by a committee of judges," he added.
According to Lebanese officials, thousands of tons of ammonium nitrate stored in a warehouse at the port in Beirut caused the massive explosion.
"It is an accident… preliminary reports indicate it is mismanagement of explosive products. This is a very serious neglect that continued for six years," Wehbe said.
Prime Minister Hassan Diab is heading the committee, which includes the justice, interior and defense ministers and the head of Lebanon's top four security agencies: the Army, General Security, Internal Security Forces and State Security.
The committee has been tasked with reporting its findings to the cabinet, and the cabinet, in turn, will refer those findings to the judiciary.
The cargo had been stored at the port since it was confiscated from a ship more than six years ago. Based on the timeline and the size of the consignment, the ship could be the MV Rhosus.
The ship was initially seized in Beirut in 2013, when it entered the port due to technical problems, according to lawyers involved in the case. It came from Georgia, and had been bound for Mozambique. The stockpile is believed to have detonated after a fire broke out nearby.
The provisional death toll from Beirut's massive blast stood at 137 on Thursday, with dozens missing and 5,000 wounded. The number of victims is expected to rise as search and rescue operations continue for people listed missing under the rubble in areas near the port.
Beirut Governor Marwan Abboud estimated up to 300,000 people may have been made temporarily homeless by the explosion, and damage from the disaster would cost the debt-ridden country billions of dollars.