Lebanon
Lebanon is complaining to UN against Israeli regime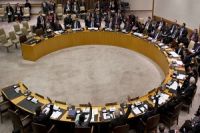 Lebanon is filing complaints with the United Nations over the Zionist regime's violation of its sovereignty and a UN Security Council resolution.
According to Press TV, Lebanese Foreign Minister Gebran Bassil asked the country's delegation to the UN to lodge three complaints against the Israeli regime at the Security Council.
The Daily Star reported on Saturday that Bassil's office said in a statement that Lebanon's permanent mission to the UN had been tasked with filing three complaints with the UN Security Council "with regards to Israel's blatant violation of Lebanon's sovereignty and UN Council Resolution 1701."
Former Lebanese Foreign Minister Adnan Mansour told Press TV, "Today Israel without a doubt practices violations not only on Palestinians but on all Arab states including Syria and Lebanon. The Israeli violations are ongoing in regards to Lebanon which include violations of water, line and space," adding that the Israeli violations pose a threat to his country's stability and security.
According to Lebanese media reports, Zionist forces crossed the Blue Line in al-Labbouneh border area on May 11 and uprooted trees to have a Lebanese army checkpoint exposed.