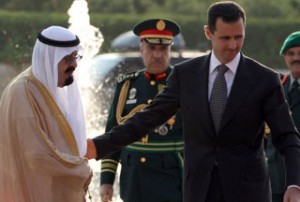 Syria and Saudi Arabia have urged politicians in Lebanon to reach consensus and form a national unity government.
Syrian President Bashar al-Assad and Saudi King Abdullah underlined the importance of an agreement amongst the Lebanese, and said on Thursday that a national unity government in Lebanon will bring stability, unity and strength to the country, SANA reported.
The two leaders were speaking in Damascus at the end of the Saudi monarch's first visit to Syria since succeeding the throne in 2005.
The call comes while, Lebanese Prime Minister-designate Saad Hariri has been struggling to form a cabinet for months, since being tasked with installing a government following the June 7 elections.