Iran
Islamic Unity
Lecturers at Islamic Unity Confab discuss: Reasons, solutions for intrigues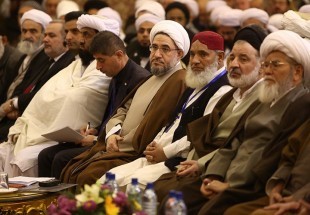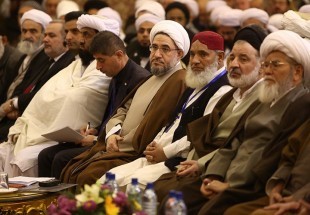 Lecturers on the second day of the general assembly at the 28th International Islamic Unity Conference expressed their views on the most important reasons behind intrigues in the Islamic communities and related on the solutions for the issue.
Hujjat-ul-Islam Seyyed Hshim Shakhs, top Saudi cleric in this meeting expressed regret over prevalence of intrigues across many Islamic countries counting Takiri statements, media propaganda and marginalization of moderate scholars as the main reasons behind spread of intrigues across the Islamic countries, reported Taqrib News Agency (TNA).
He called Takfiri statements as the most important threat for the Islamic society and noted," Takfiri groups excommunicate all Muslims to the point that they excommunicate some of their own peers and disrespect anyone who is rejected from religion in their view."
Saudi figure said isolation of moderate scholars from the main arenas as another reason for spread of intrigues and warned that as an opportunity for extremist scholars.
Hujjat-ul-Islam Al Shakhs hailed the present event in Tehran and counted holding such meetings, sending the voice of moderate scholars to the world, particularly the younger generation, and also uprating the intriguing issues at birth as ways for confrontation with intrigues in all Islamic countries.
Nazi Karimi, representative of Bahraini women and professor at Bahrain seminary, called all Muslims to unite with the oppressed nation of Bahrain and condemned efforts of the Bahraini nation to detain Islamic scholars demanding the summit to issue a statement in solidarity with Bahraini nation.
Hujjat-ul-Islam Sheikh Hussain Mo'tavegh, prominent Kuwaiti scholar, in this meeting expressed regret over the relative victory of the enemies to damage Islam and Muslim unity saying," Unfortunately many Shia and Sunni clerics are affected by the intriguing plots of the enemies."
He warned against Takfir as a real threat and noted," Extremist Takfiris try to damage Shia and Sunni with a fake image; hence, their threat is as dangerous as the military threats of the enemies."
Bilal Hassan Al Tal, chie editor of Jordanian daily stressed importance of preventing intriguing enemies and said," Pioneers of intrigue will never exhaust in making use of any opportunity to fuel divisions while pioneers of solidarity lag behind due to complements."
Sheikh Javad al Khassi, Iraqi Shia cleric, highlighted necessity of maintaining priorities and also taking practical measures for realization of Islamic solidarity.
He urged all proximity institutions in the Islamic countries to provide a concise plan for unifying the world of Islam and take steps beyond holding meetings.