Africa
Middle East
World News
Libya government forces say Emirati drones supporting rebels
Government forces in Libya say Emirati drones have carried out two airstrikes in support of Libyan rebels near the city of Sirte.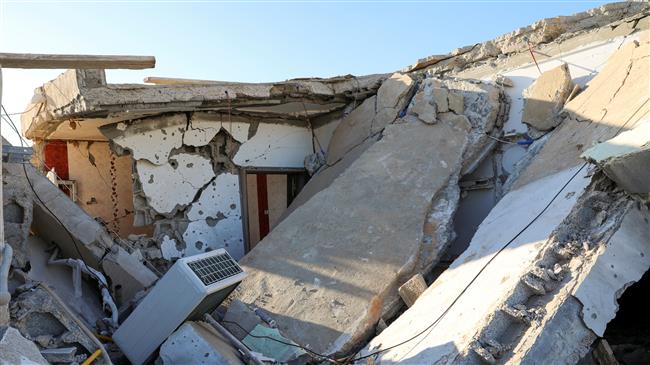 Mustafa al-Mujie, a spokesman for Libyan government forces, told Anadolu Agency on Tuesday that Emirati drones supporting the rebels under the command of renegade general Khalifa Haftar twice raided al-Washka area, west of Sirte.
"One of the strikes targeted a post office, causing the suspension of communications there," Mujie said, adding that only material damage had been caused.
A flight-tracking data provider said last month that the United Arab Emirates had sent more than 100 shipments of arms to Libya by air since mid-January, despite a United Nations (UN) arms embargo against the war-ravaged country. But the airstrikes near Sirte marked the first time that the Emirates was purportedly operating drones to support the rebels.
Since 2014, Libya has been divided between the Tripoli-based government and a camp in the eastern city of Tobruk, supported militarily by Haftar's rebels.
Haftar has been receiving backing from the United Arab Emirates, Egypt, and Saudi Arabia, and his forces have been fighting to capture Tripoli since April last year. The Libyan government received support mainly from Turkey.
Mujie also said that the government forces had on Monday conducted an airstrike on a fuel tanker in the city of Bani Walid that was due to supply Haftar's militia.
Libyan government forces down rebel cargo plane near TripoliLibyan government forces shoot down a cargo plane operated by rebel forces near the capital, Tripoli.
A government spokesman, Muhammad Gununu, also said that heavy artillery had targeted two ammunition depots belonging to the rebels in another area.
The operations come amid an escalation in fighting over the past two weeks despite calls by the UN for global ceasefires to focus on the fight against the new coronavirus pandemic.
Shelling hits Tripoli hospital
On Monday, projectiles hit the grounds of a hospital in a government-held area in Tripoli, residents said.
The local council of Abu Salim district said the hospital had been targeted by rockets fired by the rebels, adding that five people had been wounded in the attack.
Libya, whose public healthcare system has been badly affected by years of fighting, has recorded 18 confirmed cases of the coronavirus so far.
The North African country plunged into chaos in 2011, when a popular uprising and a NATO intervention led to the ouster of long-time dictator Muammar Gaddafi.