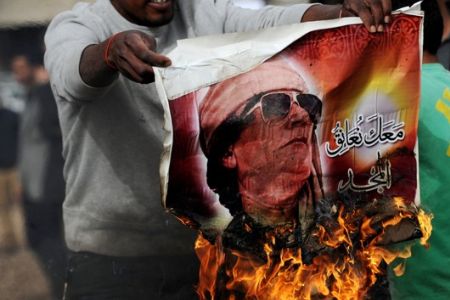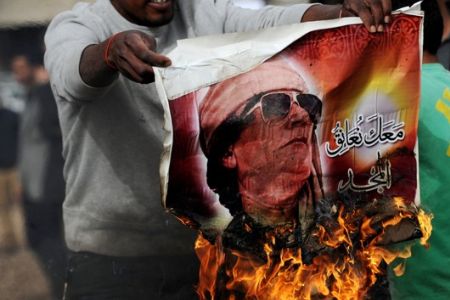 Sustained gunfire has erupted in the centre of Libya's capital, Tripoli, at the time Libyan pro-democracy demonstrators fought troops loyal to Muammar Qaddafi in several cities as they advanced on the leader's hometown of Sirte, 230 miles east of Tripoli.
Opposition fighters closing on the loyalist stronghold battled with Qaddafi's troops today, said Khaled el-Sayeh, a coordinator between the opposition's military forces and its interim ruling council in Benghazi. The opposition column was targeted by warplanes as it approached Sirte, the Associated Press said. There were no immediate reports of casualties.
Reports on state television that Qaddafi's troops had recaptured the central oil port of Ras Lanuf overnight were false and designed to "bring down the morale of the youths," el-Sayeh said. The rebels were in control of the oil port early today.
In Tripoli, it was unclear who was carrying out the shooting on Sunday, or what caused it. Automatic weapon rounds, some of it heavy calibre, echoed around central Tripoli along with pro-government chants and whistling and a cacophony of car horns as vehicles sped through the vicinity, witnesses said.
However, government spokesman Mussa Ibrahim denied any fighting was under way in Tripoli. "Everything is safe. Tripoli is 100 per cent under control. What you are hearing is celebratory fireworks. People are in the streets, dancing in the square," he told the Reuters news agency
Libyan state television said the shots were in celebration of Gaddafi forces having reclaimed the cities of Misrata and Az-Zawiyah. However, residents of Misrata told Al Jazeera that reports the city had been recaptured were false.
The army – most of which has turned against Gaddafi in that area – as well as protesters have encircled a small pocket of militia loyal to Gaddafi in part of the air force base in the south of the city, but there has been no direct fighting for two days.
Meanwhile, the Associated Press news agency reported that Libyan warplanes had launched air strikes on an anti-Gaddafi force advancing towards the city of Sirte, a Gaddafi stronghold.
State TV meanwhile showed pictures of tanks, armored-personnel carriers and other weapons it said were seized on Saturday from rebels in Az-Zawiyah.
More than 30 people were martyred and as many as 200 people were said to have been wounded in the fighting that drove government forces out of the town.
Elsewhere, anti-government forces were in control of Ras Lanuf, which houses a major refinery and petrochemical complex, and the nearby town of Bin Jawad.
In the west of Libya, rebels claim to have taken full control of the oil port of Ras Lanuf
However, there were reports on Sunday that forces loyal to Gaddafi had attacked the opposition in Bin Jawad. One fighter said the Gaddafi loyalists had attacked with machine guns and rocket-propelled grenades, Reuters news agency reported. Other rebel fighters in Ras Lanuf said they had received news of the attack by phone. "
Benghazi, Libya's second city, is in the hands of anti-government forces, but Libyan state television said on Sunday that forces loyal to Gaddafi are on their way to the city.
Europe sent experts to Libya Sunday on a "fact-finding" mission as diplomatic activity intensifies in Brussels and at the United Nations. The European Union's High Representative for foreign and security affairs, Catherine Ashton said she wanted "first-hand, real-time information" to feed into proposals for a gathering of EU foreign ministers on Thursday and the bloc's emergency summit on events in Arab countries on Friday.