Africa
Libyan Gov't: S. Arabia, UAE's Military Assistance to Haftar Could Stop Crude Exports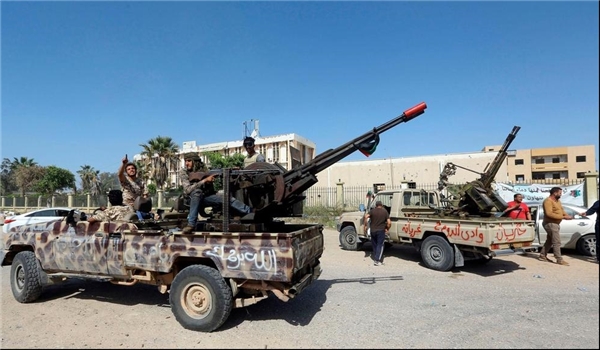 Head of Libya's High Council of State (HCS) Khaled al-Mishri disclosed that Saudi Arabia and the UAE have supplied forces loyal to renegade commander Khalifa Haftar with military equipment, warning that the move could soon end up in a halt in oil exports from the war-ravaged country.
"The UAE, with the help of Saudi Arabia, has equipped Haftar forces with 195 combat vehicles and Belarus-made helicopters," Mishri was quoted by the Arabic-language al-Sharq newspaper as saying on Sunday.
He referred to the deployment of UAE fighter jets and military men in Kharoubah base in Eastern Libya, and said, "Saudi Arabia has told the committee of sanctions that it has transferred weapons from the UAE to Haftar forces on a Saudi ship."
Al-Mishri also warned that continued war against Tripoli could stop exports of oil from the country.
His remarks came as troops loyal to Libya's internationally-recognized government are preparing to launch a counteroffensive on Haftar's Eastern-based forces currently struggling to maintain their positions along the capital's Southern outskirts, the Government of National Accord's interior minister announced.
"We are in preparation and within three days or so, there will be a full-scale attack and we will switch from a defensive to attacking position," Interior Minister Fathi Bashagha.
"Haftar's forces will be repelled from the entire Western region … There are other surprises in other areas where Haftar's forces are based," he added.
The announcement came as the United Nations expressed concern over reports of indiscriminate shelling in populated areas.
Citing figures by the International Organization for Migration, UN Spokesperson Stephane Dujarric said 39,000 people were displaced by fighting along the capital's southern districts.
Haftar's Libyan National Army (LNA), which is allied to a rival government in Eastern Libya, launched an offensive to seize the capital on April 4, but has so far failed the breach the city's defenses.
"We assure you that this aggression on Tripoli has increased our strength and battle readiness. The security situation has improved, thanks to the efforts of security and police personnel," Bashagha stated.
Separately, Economy Minister Ali Abdulaziz Issawi told Reuters News Agency that the GNA was budgeting up to $1.43bln to cover the cost of the war, which has entered its fourth week now.
Issawi said the government of Prime Minister Fayez al-Sarraj would spend the money on medical treatment of the wounded, aid for displaced people and other "emergency" war costs, insisting the amount would not be used to fund the war efforts.
Tripoli derives revenue largely from oil and natural gas production, interest-free loans from local banks to the central bank, and a 183-percent surcharge on foreign exchange transactions conducted at official rates.
But with centralized tax collection greatly diminished, public debt has piled up to 68 billion dinars ($48bn) in the West, including unpaid state obligations, such as social insurance.
Some analysts say Sarraj's government will be forced to raise a new debt if the war for the control of Tripoli drags on.
With much of Libya dominated by armed factions that also act as security forces, the public wage bill for both the Western and Eastern administrations has soared as fighters have been made public employees in efforts to buy their loyalty.
The east sold bonds worth 35 billion dinars ($25bn) outside the official financial system as the Tripoli central bank does not fund the parallel government apart from some wages.
Despite its limited reach, the Tripoli government still runs an annual budget of around 46.8 billion dinars ($34bln), mainly for public salaries and fuel subsidies.
"This year, we cannot finance via debt … We will not borrow [by agreement with the central bank]," Issawi added.
According to IMF data, Libya's central government's debt-to-GDP ratio is 143 percent, making it one of the most indebted countries in the world.
Issawi declined to say what part of the budget would be trimmed to support the extra outlay for war costs.
However, with some 70 percent of the budget allocated to public wages, fuel subsidies and other welfare benefits, a portion devoted to infrastructure is most likely to be axed.
Widespread lawlessness has meant there have been no major infrastructural projects since 2011, when a NATO-backed uprising overthrew long-time ruler Muammar Gaddafi, leaving schools, hospitals and roads in acute need of restoration.