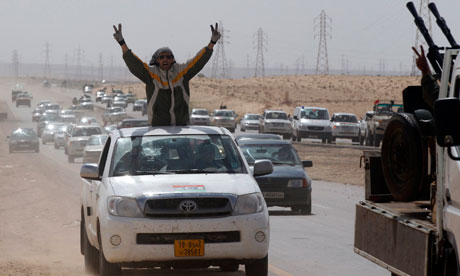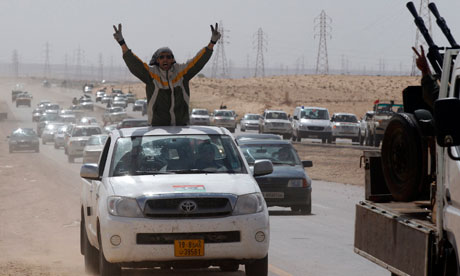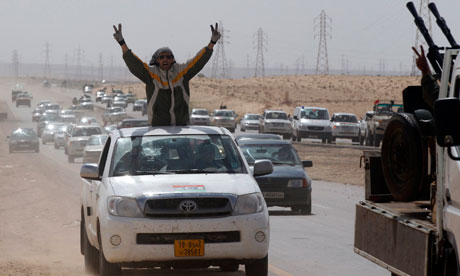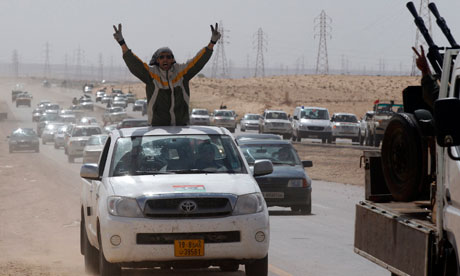 Libyan revolutionary forces are fighting their way to the key city of Sirte, which is the hometown of embattled Libyan leader Muammar Gaddafi.
A Press TV correspondent said on Monday that it would be the beginning of the end for Gaddafi if the city falls. The revolutionary forces are less than 100 km away from Sirte.
He added that forces loyal to Colonel Gaddafi are holed-up in the populated city.
The town remains a major obstacle for opposition forces on the march toward the gates of Tripoli.
Media reports say the US-led airstrikes have also hit military tanks in Gaddafi's birthplace over the past hours.
Libyan government sources say three civilians had been killed in the city's port.
Unconfirmed reports earlier said that revolutionary forces had taken Sirte, sparking celebratory gunfire in Benghazi — the opposition stronghold.
In recent days, the opposition forces have taken control of the cities of Ras Lanuf, Ben Jawad, Uqaylah, Ajdabiya and Brega.
Meanwhile, Qatar has become the first Arab country to recognize the National Libyan Council as the legitimate representatives of Libya.
The move is seen as a symbolic diplomatic victory for the opposition.
However, Russia has once again condemned Western airstrikes against Libya.
Russian Foreign Minister Sergey Lavrov made the statement following a meeting with his Kyrgyz counterpart Ruslan Kazakbaev in Moscow.
Russian Prime Minister Vladimir Putin has also condemned the attacks, saying they remind him of a medieval crusade.
Russia abstained during the UN Security Council vote on imposing a no-fly zone over Libya.
Moscow, however, did not use its veto right to block the move.
Dozens of civilians have been killed in Libya since US-led forces launched aerial and sea attacks on the North African country.