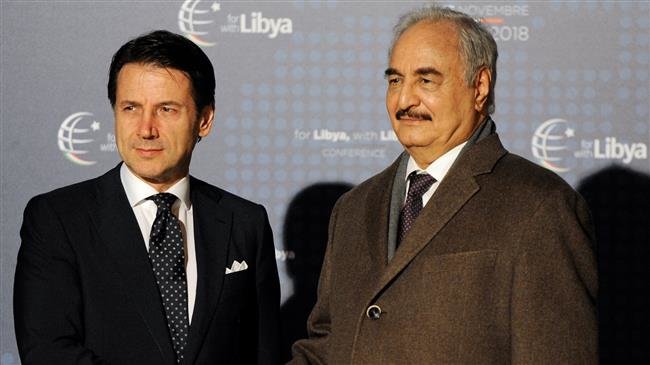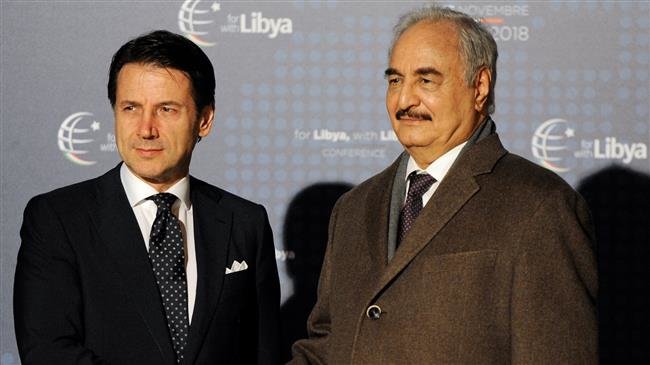 Leaders of Libya's rival governments have met one on one in the Italian city of Palermo, where they have been invited to attend a conference and discuss peace in the North African country.
An Italian government source said Khalifa Haftar, the strongman ruling most of Libya's east, met with Libya's UN-backed Prime Minister Fayez al-Serraj, who is based in the African country's west, Reuters reported on Tuesday.
There had been days of doubt about whether Haftar would travel to Italy for the talks at all. It was his first meeting with Seraj since May.
Italy hopes the two-day summit will resurrect United Nations (UN) efforts to stage stalled elections in Libya, after the UN envoy to Libya last week said that it would be difficult to hold elections as scheduled on December 10.
That cancellation came following a new wave of fighting in the North African country. The rival groups had agreed to the plan to hold the December elections following a meeting in Paris in May.
Haftar's self-proclaimed Libyan National Army (LNA) said on Tuesday that he would not attend the conference itself but would meet regional leaders on its sidelines.
The LNA said he had traveled to Palermo to "hold a series of meetings with the presidents of regional countries to discuss the latest national and international developments."
The Palermo conference would be attended by Western, UN, and Russian officials as well as Egyptian President Abdel Fattah el-Sisi.
Libya plunged into chaos in 2011, when the country's long-time dictator Muammar Gaddafi was ousted in an uprising and with a NATO military intervention. The North African country is currently split between two rival governments — in the east and west, and each backed by an array of rival militia groups.
The Tripoli-based GNA is recognized by the UN as the official government. The other government, known as the House of Representatives, is based in the eastern city of Tobruk and has the support of forces loyal to Haftar.
The UN's Libya envoy Ghassan Salame has expressed hope that another attempt to hold an election will take place by June but Libyans should first hold a national conference in early 2019 to decide on the poll's format.
"We want to ask at the national conference what type of election do you want: parliamentary or presidential, and what kind of (election) law," Salame told Reuters.