Africa
Libyans rally in support of Haftar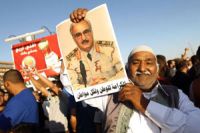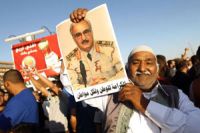 Thousands of people have held a demonstration in the Libyan capital Tripoli in support of retired General Khalifa Haftar.
According to AFP, the demonstrators took to the streets of the city on Friday to back Haftar, whose forces launched an offensive against militants on May 16.
Similar demonstrations were also held in the restive northeastern city of Benghazi and in the towns of Ajdabiya and Gharghour.
Many of the participants carried banners reading slogans such as "No to terrorism" and "We want a nation with dignity, not a state of militias."
Security measures were in place around the protests, but no violence was reported.
Haftar has launched a military offensive in the country's east, saying that he wants to crush the militants and to establish stability in Libya.
His campaign has drawn support from high-ranking officials, military officers and soldiers.
The head of Libya's navy, General Hassan Abu-Shannaq, has also expressed his support for the operations by Haftar's loyalists.