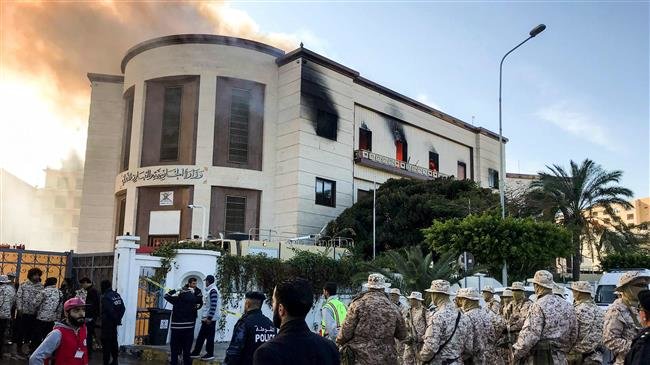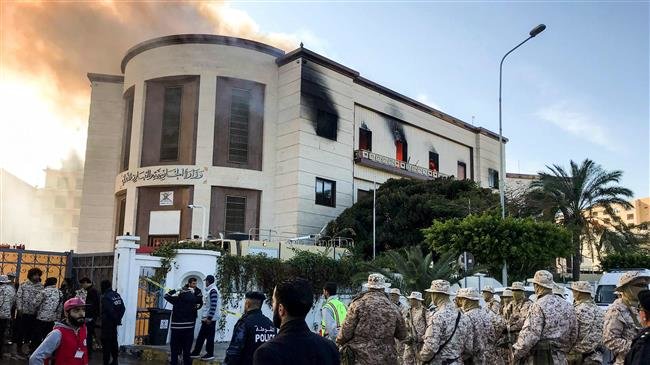 Gunmen have attacked Libya's Foreign Ministry building in the capital, Tripoli, engaging in shootouts and setting off explosives inside, state media say.
The attack was staged on Tuesday morning by several "terrorist attackers," the official TV channel of the Libyan unity government announced, citing sources in the Foreign and Interior Ministries.
There have been no official reports on casualty figures or a claim of responsibility, though a Foreign Ministry employee was cited in a press report as saying that three individuals had been killed and six wounded.
Other reports have cited the Foreign Ministry as confirming one death and nine injuries in the attack.
Unnamed security sources were also cited in media reports as identifying three attackers as suspected Daesh militants, one of whom was reportedly killed by the ministry's guards. The other two blew themselves up.
Foreign Minister Mohamed Taher Siala was described by a ministry employee to be unharmed following the attack.
In September, Daesh claimed responsibility for an attack on the headquarters of Libya's National Oil Company in the heart of Tripoli, which left two people dead and 10 wounded.
Four months earlier, the terror group also claimed responsibility for an attack on the electoral commission's headquarters, which left 14 dead.
The divided North African country still struggles to restore stability seven years after an uprising that toppled and killed long-time dictator Muammar Gaddafi following the heavy bombardment of government positions by NATO.
Libya is now divided between two rival governments — one in the east and another in the west — and each backed by an array of rival militia factions.
The Tripoli-based unity government is recognized by the United Nations as the official government. The other government, known as the House of Representatives, is based in the eastern city of Tobruk.
The development comes just over a week after a US military commander declared that conditions were improving in Libya for the return of an American diplomatic post, six years after the US envoy was killed there in an attack on the Benghazi consulate.