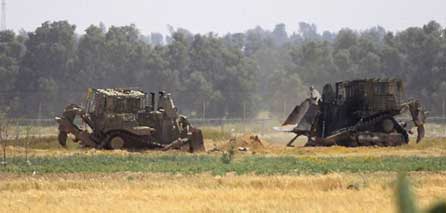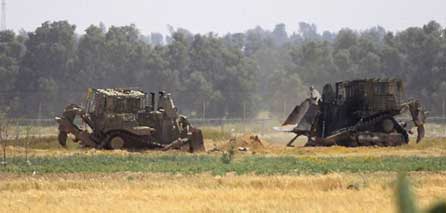 Rabid-dog Israeli Occupation Forces (IOF) carried out, Tuesday morning, a limited incursion into the central Gaza Strip looking for tunnels used by Palestinian resistance.
Quds Press quoted eyewitnesses as saying that three Israeli bulldozers moved some 100 meters across the border fence in eastern al-Bureij refugee camp and carried out combing operations.
The bulldozers raked through the area and leveled Palestinian lands searching for tunnels used by Palestinian resistance elements.
An IOF armored vehicle and three tanks, meanwhile, were deployed in an adjacent area, near the border fence to provide protection for the bulldozers.
The incursion is the latest in a series of Israeli violations of the Cairo-brokered ceasefire accord signed in the wake of the 2014 offensive on the besieged coastal enclave.