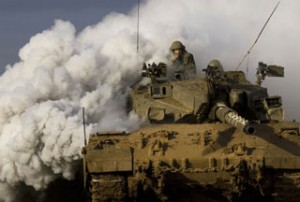 The Zionist occupation forces advanced on Wednesday, 27/1/2010, in the 'Dugit' freed settlement north of Beit Lahia in the northern Gaza Strip.
According to our[qassam.ps] correspondent in the northern Gaza Strip, a number of military tanks and jeeps accompanied by an armored bulldozer advanced into the region amid random shooting, causing no casualties among the citizens.
The correspondent said that the Zionist occupation forces started to raze and sweep the Palestinian agricultural land and caused a widespread destruction under the cover of the Zionist drones.