Europe
Lebanon
Middle East
Little Satan UK freezes Hezbollah assets following designation of entire group as 'terrorist'
Britain's Treasury has expanded the scope of its asset-freezing measures against Hezbollah to cover the Lebanese resistance movement in its entirety.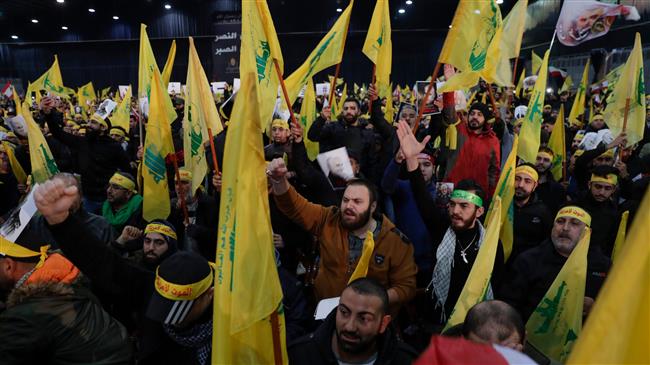 In a notice published on its website Friday, the Treasury's Office of Financial Sanctions Implementation said the move requires that any individual or institution in the UK with accounts or financial services connected to Hezbollah suspend them or face prosecution.
"Failure to comply with financial sanctions legislation is a criminal offence or to seek to circumvent its provisions is a criminal offence," it said.
The UK had already banned Hezbollah's external security unit and its military wing in 2001 and 2008, respectively.
The Treasury's new measure followed Britain's decision last year to blacklist the group.
In February 2019, then Home Secretary Sajid Javid accused Hezbollah of destabilizing the Middle East, saying London was "no longer able to distinguish" between the group's banned military branch and its political party.
"Hezbollah itself has publicly denied a distinction between its military and political wings," the Treasury said Friday.
"The group in its entirety is assessed to be concerned in terrorism and was proscribed as a terrorist organization in the UK in March 2019. This listing includes the Military Wing, the Jihad Council and all units reporting to it, including the External Security Organization," it added.
Hezbollah: UK terrorist designation 'insult' to LebanonLebanon
Israeli Public Security Minister Gilad Erdan welcomed the UK Treasury's measure, calling on the EU and other countries to follow London's example.
Similarly, Brian Hook, the US special representative for Iran, said Washington was "very pleased" with the decision.
Hezbollah was formed following the Israeli regime's invasion of Lebanon and the ensuing occupation of its southern parts in the 1980s. It currently constitutes Lebanon's de facto military power.
The resistance movement has helped the national army retake the occupied regions from Tel Aviv and thwart two Israeli acts of aggression against Lebanon in 2000 and 2006.
It has also been playing a significant role in the Syrian army's fight against foreign-backed Takfiri terror groups, thus preventing the infiltration of Daesh and al-Nusra Front militants into Lebanon.
The resistance movement, along with its allied parties, holds more than half the seats of the 128-member Lebanese parliament.
Anti-arms group included in UK's terror watchlist
Also on Friday, the Campaign Against Arms Trade (CAAT), an organization working to end the international arms trade, was placed on the watchlist of the UK's controversial anti-terrorism program called the Prevent scheme.
Andrew Smith, a spokesperson for the group, denounced the move as "political policing."
"The message that this appalling list sends is that if you care about social justice or oppose war, arms sales, discrimination or conflict then you can be included alongside white nationalists and neo-Nazi hate groups," he said in a statement.
"Political policing has been a major problem, and this document takes things to a whole new level. It is yet another shameful attempt to repress dissent. This further discredits the fundamentally flawed Prevent scheme. It is long past time for police and government to stop criminalizing democratic protest."