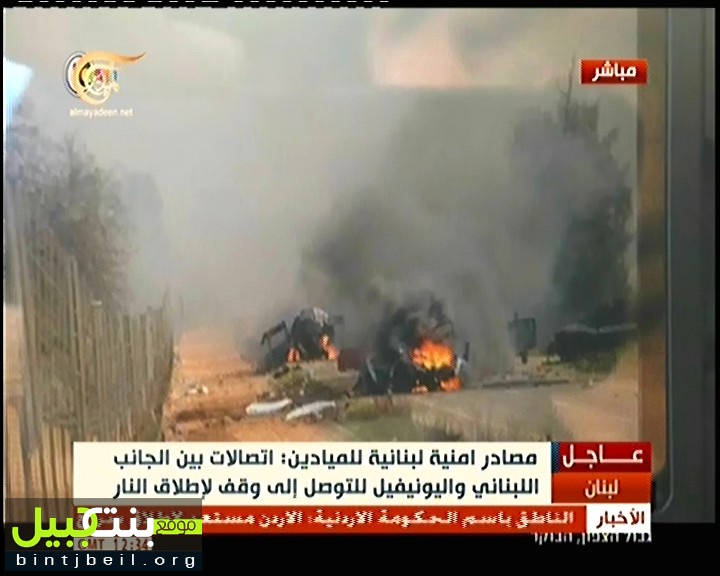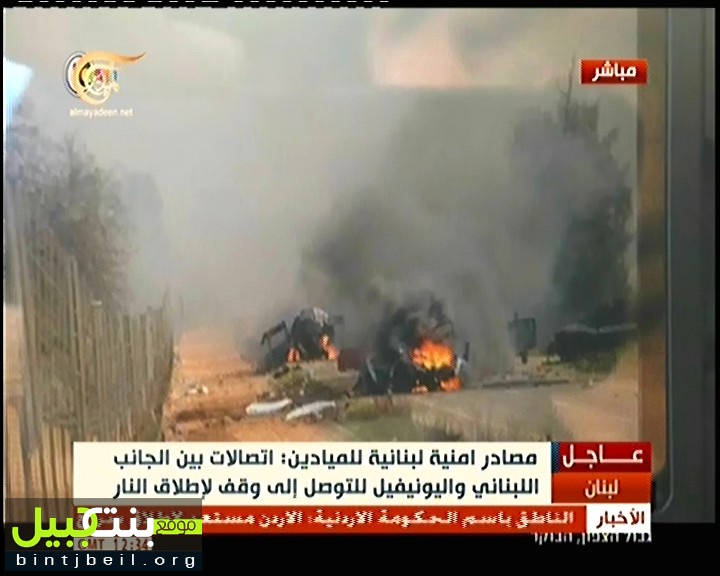 14:49 – Tel Aviv says attack on Syrian sites in retaliation of four rockets fired at Israel.
14:48 – Foreign-backed insurgents say Israel jets also hit area near Damascus international airport.
14:46 – Israeli warplanes strike on Syrian artillery posts in Quneitra, Golan Heights.
14:39 – All airports in Israel's north closed to flights as Israel strikes southern Lebanon.
14:38 – Israeli sources: Several injured as anti-tank missile hits military vehicle in northern Israel.
14:38 – Israeli army confirms at least 2 soldiers killed, 8 wounded in Hezbollah attack.
14:29 – Israeli military confirms two of its soldiers killed in Hezbollah attack, AFP reports.
14:10 – Lebanon says Israeli army fired at least 50 artillery shells into Lebanon
14:07 – Lebanon new agency: Israeli soldier captured during Sheba'a operation
13:53 – UN confirms one of its UNIFIL forces killed in clashes near Lebanon's southern border
13:46 – Israeli military says it is responding with aerial, ground strikes on Hezbollah positions
13:41 – "Hezbollah fighters destroyed a number of Israeli vehicles carrying officers, soldiers"
13:39 – Israeli military confirms at least 7 soldiers wounded in occupied Sheba'a farms
12:58 – Yedioth Ahronoth – Lieberman: "We must respond harshly and disproportionately to Hezbollah shelling just as China or the US would in similar circumstances."
12:48 GMT Al-Mayadeen: Heavy Israeli overflights reported on Lebanese villages of Marouahine, Ayta al-Sha'ab and Ramiya
12:45 GMT Arab League calls on the UN Security Council to intervene and end the Israel-Lebanon tension
12:36 GMT Hamas: Hezbollah has legitimate right to respond to Israel's policy of assassination
12:35 GMT Palestinian group Islamic Jihad praises Hezbollah 'heroic' operation against Israelis
12:35 GMT Security sources told Al-Mayadeen: Dialogue is ongoing between Lebanon and UNIFIL to reach a ceasefire
12:33 GMT Israeli fighter jets pound artillery posts in territory held by Syrian army
12:30 GMT Yedioth Ahronoth: Israel denies reports saying its soldiers being kidnapped in northern border attack
12:28 GMT Israeli Channel 10 says military is preparing for a ground operation against Lebanon
12:25 GMT Israeli airports in Haifa and Rosh Pina closed
12:24 GMT Lebanon news agency: Israeli drone flying over Marjeouyoun region, south of country
12:20 GMT UN peacekeeper killed by Israeli shelling as Israeli tanks begin shelling areas in south of Lebanon.
12:16 GMT Lebanon new agency: Israeli soldier captured during Sheba'a operation
Israel confirms four Israeli soldiers were killed and many others including a high-ranking commander wounded in a missile attack launched from Lebanon's Shabaa farms into northern Israel.
Al-Mayadeen TV says the attack was carried out by Hezbollah.
11:14 GMT A Spanish UNIFIL soldier has been injured in Israel's attack on Lebanon.
11:08 GMT Israel closes its northern space and airports to civilian traffic.
11:02 GMT The Lebanese Al-Manar TV says nine Israeli vehicles were damaged in the attack.
10:58 GMT The Lebanese resistance movement of Hezbollah has claimed responsibility for the attack saying it comes in response to the recent killing of its fighters by Israel.
10:54 GMT According to the Israeli sources airports in Rosh Pina and Haifa have been closed due to the Israeli air force operations.
10:47 GMT The Israeli army chief of staff is holding a briefing session with the military commanders in attendance.
10:30 GMT Lebanese sources say at least 30 shells were fired into Lebanon after the attack.