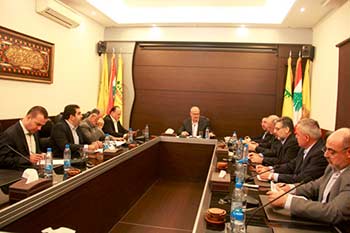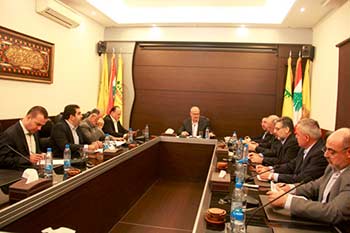 Loyalty to Resistance parliamentary bloc denounced Thursday the terrorist attack that targeted the southern suburb of Beirut (Dahiyeh), praising the measures taken by the government to carry out investigations, uncover the perpetrators, repair the damages, and rescue those affected.
The bloc's statement saluted Dahiyeh local residents for their responsible stances and appreciated the solidarity expressed by the Lebanese, Arab, and international delegations that visited the area.
"Ruwais blast was contrived by despicable intelligence services that employ the takfiri terrorists and benefit from March 14 Coalition political support that aims at achieving the interests of the Zionist-American Project."
"The failure of the conspiracies that were carried out by the takfiri groups in Syria made their operators push them towards the Lebanese internal areas to compensate their losses."
The bloc asserted that sense of religious and national responsibility drove Hezbollah to confront these takfiri groups in order protect the Lebanese security, stability, and integrity.
In a different context, the bloc considered that only the national unity government can cope with the Lebanese problems, asserting that deactivating the Lebanese constitutional institutions serves the antagonistic projects that threaten the Lebanese sovereignty and stability.
The bloc further condemned the regional and international silence concerning the Israeli violations for the Lebanese sovereignty.
Loyalty to Resistance parliamentary bloc also called on the Lebanese officials to exert more efforts to end the files of Aazaz hostages and the Turkish pilots.