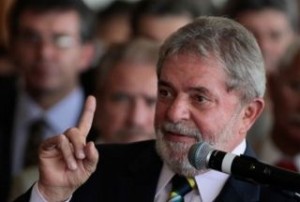 Brazilian President Luiz Inacio Lula da Silva has defended his country's stance on the Tehran nuclear declaration and stated that he believes nuclear arsenals are "obsolete."
In his opening speech at the UN Alliance of Civilizations Forum in Rio de Janeiro on Friday, Lula argued for Iran's right to have a civilian nuclear program.
"The existence of weapons of mass destruction leaves the world more unsafe," Lula said, in what was most likely a response to a statement made Thursday by US Secretary of State Hillary Clinton.
On Thursday, Clinton said that actions taken by countries like Brazil to help find a diplomatic solution to the dispute over Iran's nuclear program have made the world more unsafe.
"We defend a planet free of (nuclear) weapons," he said, reaffirming Brazil's commitment to the Nuclear Non-Proliferation Treaty. "We believe nuclear power must be an instrument of development and not a threat."
The foreign ministers of Iran, Turkey, and Brazil signed a declaration in the Iranian capital on May 17 that commits Tehran to deposit 1,200 kilograms (2,640 pounds) of its low-enriched uranium in Turkey that would be exchanged for 120 kilograms of 20 percent enriched nuclear fuel for the Tehran research reactor, which produces radioisotopes for cancer treatment.