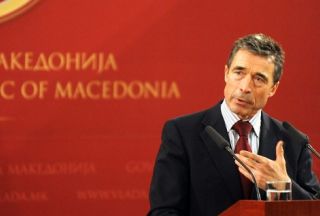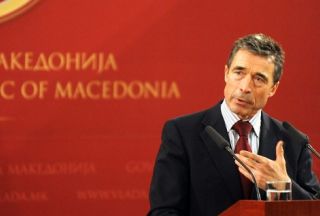 NATO Secretary General Anders Fogh Rasmussen has called on Macedonia to pave the way to join the alliance by resolving the dispute with Greece over its name.
"If Macedonia wants to join NATO the invitation will be sent immediately after a solution to the problem with the name," Rasmussen said on Friday after a meeting with Macedonian Prime Minister Nikola Gruevski.
Greece has been blocking the former Yugoslav republic's efforts to join NATO since 2008 over the latter's right to the name, Macedonia. In 1991 Macedonia announced its independence from Yugoslavia.
The United Nations recognizes the country as the Former Yugoslav Republic of Macedonia, however, more than 120 nations accept the state under its constitutional name, the Republic of Macedonia.
Athens says that the name, Macedonia, implies the country's territorial claims over a Greek region of the same name.
Macedonia had sent 242 soldiers to Afghanistan in 2002 as part of the NATO-led forces.
The Macedonian premier also vowed that his country would continue its efforts to join NATO and said that "it was one of its priorities."
He said the dispute would be resolved "if the Greek side showed some good will."
"For our part, we're giving the maximum and we expect the same from the other party," Gruevski stressed.
A previous UN-backed talks between the two counties have brought no results.