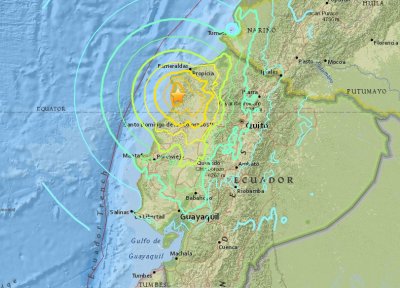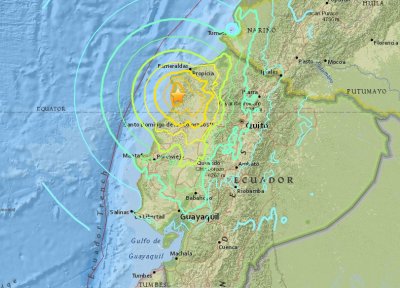 At least 77 people have lost their lives in Ecuador following a strong earthquake measuring 7.8 on the Richter scale that struck off the northwest Pacific coast late on Saturday.
The figure was given by the country's Deputy President Jorge Glas, who added that 588 people have been also injured in the natural disaster.
Noting that a state of emergency has been declared in the six worst-hit provinces, he added that police, the military and emergency services "are in a state of maximum alert to protect the lives of citizens."
Most of the victims were killed in the cities of Portoviejo, Manta and two in the province of Guayas, according to Glas.
Towns near the epicenter were also being evacuated as a precautionary measure.
Ecuador's Geophysics Institute said in a bulletin that the quake, which struck at a depth of 20 kilometers (12 miles), had caused "considerable damage" in the area of the epicenter and in the city of Guayaquil.
Nearly 10 minutes prior to the 7.8 tremor, the same area was hit by a 4.8-magnitude quake. The Ecuadorian Civilian Space Agency issued a warning, saying that powerful aftershocks were possible for the next 24 hours.
The tremor shook buildings dozens of kilometers away in the capital, Quito, and some other cities across the country.
A number of areas in Quito were without power or telephone service for several hours. Photos on social media showed cracks in the walls of buildings, but officials in the capital said there were no reports of casualties in the city.
The government has mobilized the national guard and the police to help in rescue operations.
Tsunami warnings were also issued following the quake for local coasts in Ecuador and the northern parts of neighboring Peru.
Pedro Merizalde, head of state oil company Petroecuador, told Reuters that the country's 110,000 barrel-per-day Esmeraldas refinery has been halted as a precautionary measure following the quake.