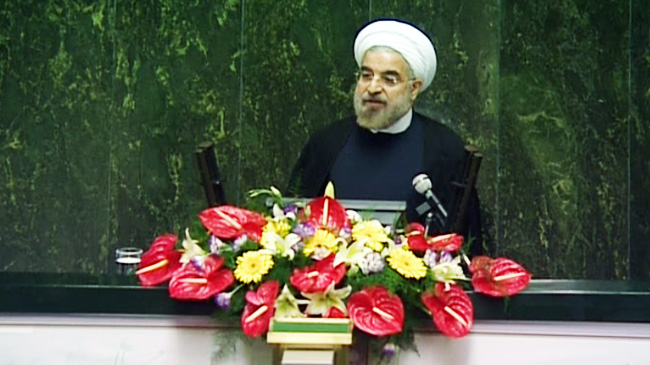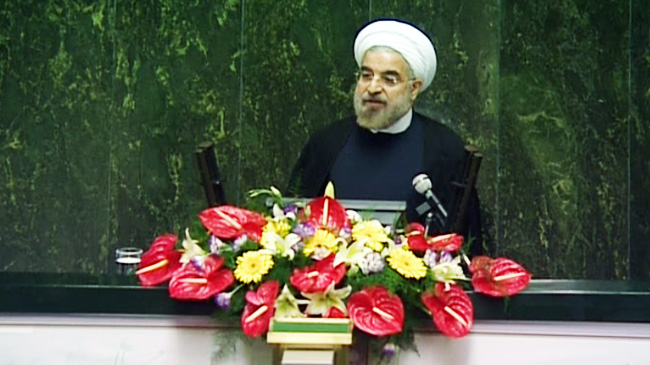 Iran's Majlis has begun debating the vote of confidence to the Cabinet members proposed by President Hassan Rouhani.
Rouhani and his proposed ministers for the 11th administration's Cabinet are attending the Monday session. The debate may last for a few days.
Addressing the lawmakers at the start of the session, Rouhani elaborated on the general policies of his administration.
He stressed that to tackle the current problems his administration will focus on two main goals; firstly, overcoming international challenges, and secondly, diversifying income resources and allocate them in an appropriate manner.
President Rouhani also highlighted the non-partisan nature of his cabinet. He stressed that moderation and meritocracy were the only yardsticks in deciding the cabinet makeup.
Iran's president unveiled the proposed list of nominees for his Cabinet during his inauguration ceremony on August 4 in Majlis.
Leader of the Islamic Revolution Ayatollah Seyyed Ali Khamenei endorsed Rouhani for a four-year term in office as Iran's new president in a ceremony on August 3.
Rouhani won the June 14 presidential election with 50.7 percent of a total of more than 36 million ballots. Voter turnout in the election was 72.7 percent.