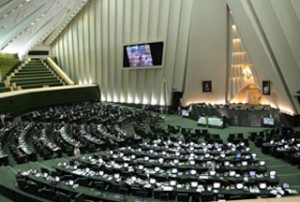 Iran's Parliament has resumed a debate for the third successive day on vote of confidence for 11 ministers proposed by President Mahmoud Ahmadinejad.
Debates on President Ahmadinejad's 21-member Cabinet line-up began on Sunday with hot discussions by lawmakers speaking for and against the proposed nominees.
During Majlis session on Tuesday, the lawmakers will discuss for and against 11 proposed ministers who will each have the opportunity to present their plans.
The lawmakers began Tuesday's debates with a confidence vote of Mrs. Marzieh Vahid-Dastjerdi — Ahmadinejad's pick to fill the Ministry of Health. She is one of three female nominees in the president's line-up.
A lawmaker from Tehran Alireza Marandi, speaking for the proposed health minister, expressed confidence that Vahid-Dastjerdi would be successful in materializing her plans.
"Justice in health is one of the most significant plans of Vahid-Dastjerdi," he said.
Marandi, who has been served as a former health minister, added that the nominee for the Health Ministry is faithful woman who enjoys great wisdom and high intellectual and social maturity.
On the other hand, the lawmaker from Khoy city, Moayyed Hosseini Sadr, raised questions about Vahid-Dastjerdi's plans.
"Certain problems in health sector have not been included in plans presented by the proposed minister of health," he said.
Despite opposition to Ahmadinejad's decision to include three female ministers in his new cabinet, Vahid-Dastjerdi is deemed to have won Majlis vote of confidence.
In continuation of the session, no lawmakers expressed their views against Ahmadinejad's nominees for Ministry of Agricultural Jihad, Sadeq Khalilian, Ministry of Justice Morteza Bakhtiari and Ministry of Defense Ahmad Vahidi.
According to Majlis regulations, if no lawmaker speaks against a proposed minister, no proponent is allowed to speak for the nominee.
President Ahmadinejad submitted his final list of 21 candidates for the next cabinet on August 19. Nearly two-thirds of the nominees are new faces.
To take office, the potential ministers will have to gain the Parliament's vote of confidence by winning the approval of the majority of the representatives.
Majlis is scheduled to complete the process and give its vote of confidence decisions to President Ahmadinejad's 21-member Cabinet on Wednesday or Thursday.