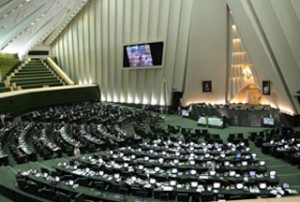 Iranian lawmakers begin casting their votes on Mahmoud Ahmadinejad's cabinet line-up, after the president's calls for the approval of all his 21 nominees.
Before balloting kicked off on Thursday, the Iranian president called on the country's parliamentarians to send 'a crushing response to foreign enemies' by giving their vote of confidence to all of his cabinet nominees.
In a speech that wrapped up five days of cabinet debates at the parliament (Majlis), Ahmadinejad thanked the lawmakers for the views they had expressed and asked them for a full cabinet approval.
Ahmadinejad, who had taken the podium to offer the last defenses in support of his ministerial candidates, described them as a 'free and open' team.
The president did not say much about the minister-designates, but focused his speech more on the need for the Majlis and the executive branch of the government to coordinate their efforts, Press TV correspondent, Saman Kojouri, reported from the parliament.
Ahmadinejad highlighted the importance of 'brotherly relations' between his administration and the Majlis and said that the two bodies must unite to realize their revolutionary ideals.
With Ahmadinejad's brief address coming to an end, the representatives started casting their votes on the 21 proposed ministers, which, for the first time, also include three women candidates.
Most of Ahmadinejad's picks are expected to gain the required majority vote they need to start work officially. Those deemed most unlikely to win the necessary number of votes are the female nominees.
President Mahmoud Ahmadinejad and Parliament Speaker Ali Larijani are scheduled to hold a joint press conference after the voting process is over.