Iran
Major steel mill launched in southern Iran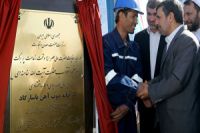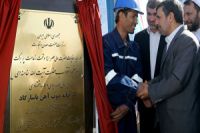 Iranian President Mahmoud Ahmadinejad has inaugurated Pasargad Steel Mill in the southern province of Fars.
The plant, situated in the town of Kovar, 972 kilometers (603 miles) south of Tehran, covers an area of 300 hectares, and has been built by the Iranian private sector with an investment of 6,100 billion rials (nearly USD 5.5 billion).
The plant has directly created jobs for 800 people.
According to its website, Pasargad Steel Mill aims to produce high-quality steel products in accordance with the highest international standards.
Meanwhile, Minister of Industry, Mining and Trade Mehdi Ghazanfari says the incumbent administration has prepared the ground for the production of 24 million tons of steel per year.
He said on Thursday that construction of production units capable of yielding 30 million tons of steel per annum has already started and the units will become operational in the next few years.
Ghazanfari further noted that Iran plans to increase its annual steel output to 55 million tons by the end of the Fifth Five-Year Development Plan (March 2010-March 2015).
Iran is the biggest steel producer in the Middle East and North Africa and the country's main steel mills are located in Isfahan and Khuzestan provinces.