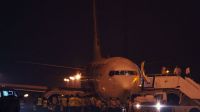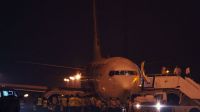 A Malaysia Airlines plane has landed safely after abandoning its flight due to a landing gear problem.
According to AFP, early on Monday, the airlines said the jetliner, with 159 passengers and seven crew members, was on its way to the Indian city of Bangalore. The carrier also said the Boeing 737-800 aircraft had to turn back to Kuala Lumpur shortly after its right landing gear hit a snag upon take off.
The airline said in a statement "As safety is of utmost priority to Malaysia Airlines, the aircraft was required to turn back to KLIA (Kuala Lumpur International Airport)."
The statement added "All 159 passengers and 7 crew members on board have disembarked from the aircraft."
Meanwhile, search operations are still underway to find the wreckage of another Malaysian flight that went missing on March 8, with 239 passengers on board.