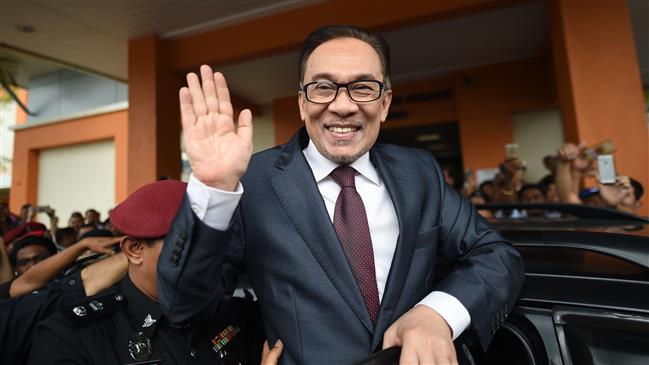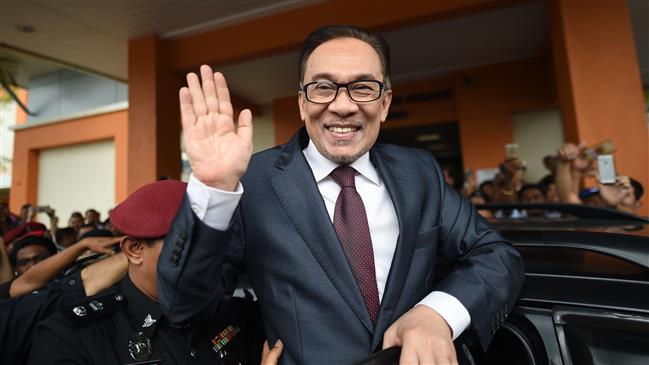 Prominent Malaysian politician and former deputy prime minister Anwar Ibrahim has been released from prison following a royal pardon, paving the way for his return to national politics.
Anwar's freedom on Wednesday marked the first major success of Malaysia's newly-elected governing coalition, Pakatan Harapan, which is led by 92-year-old Mahathir Mohamad and which swept to power after a stunning election victory last week.
Smiling and looking upbeat, Anwar walked out of a Kuala Lumpur hospital where he had undergone surgery for a shoulder problem, waving to a crowd of journalists before leaving in a car — headed for the National Palace — without making any remarks.
"It's exhilarating to see him released; this was clearly a miscarriage of justice," said Anwar's lawyer Sankara Nair, referring to his conviction on sodomy charges. "This pardon has completely cleared his name at last, but it is a unique pardon; there has never been one like this in Malaysia."
It was his first taste of freedom since 2014, following a prison sentence widely perceived as politically motivated and a maneuver by then prime minister Najib Razak to get rid of a feared political rival who had run against him and had reportedly won the popular vote in the 2013 general elections.
Guaranteeing the full royal pardon of Anwar was a crucial part of a pact between Mahathir and Anwar's opposition faction, which were united by a shared desire to topple Najib.
Under the same agreement, Mahathir will only serve as prime minister for two years, before passing power to Anwar. It was a pledge the newly-elected prime minister reiterated on the eve of Anwar's release.
"Maybe lasting one or two years, I will be the prime minister. I will play a role in the background even when I step down," said Mahathir, who himself previously served as Malaysia's premier and head of ruling party UMNO for 22 years.
Anwar began his career in politics as Mahathir's protégé in the early 1980s — after serving nearly two years in jail for political protest — and rapidly rose through the ranks to become deputy prime minister in 1993.
He was ousted in 1998, when he and Mahathir fell out over alleged cronyism and an economic crisis, and when Mahathir also reportedly began to fear Anwar's massive popularity.
After dismissal, Anwar found himself charged with sodomy and corruption. Even though the evidence was reportedly weak and mostly coerced, Anwar was found guilty in 1999 of the corruption charge and in 2000 of the sodomy charge, leading to a combined 15-year prison sentence.
But he was released in 2004, having spent six years in solitary confinement, and was allowed back into politics in 2008, when he ran as opposition leader in elections.
In 2010, he was again put on trial for alleged sodomy, in hearings that continued for two years. He was acquitted and ran again as opposition leader in the 2013 elections, reportedly winning more votes but still losing to Najib due to alleged voter fraud.
Less than a year after Najib won the elections, Anwar's acquittal was overturned and he was again sentenced to a five-year prison term for sodomy.
That saga seems to have ended with the royal pardon and Anwar's release on Wednesday.