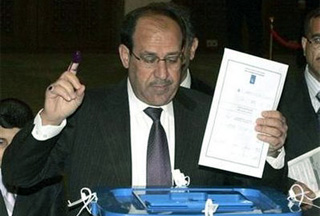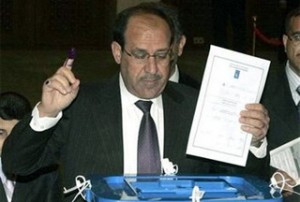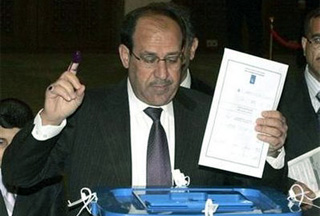 Updated preliminary results from Iraq's polls on Sunday showed that Prime Minister Nouri al-Maliki has regained lead over the rival camp, former premier Iyad Allawi's al-Iraqiya Alliance.
Election tally, obtained by counting 95 percent of the ballots from the March 7 elections, turned in favor of Maliki's Rule of Law coalition, giving the Shia-dominated side a 188,000 vote lead, Reuters reported.
Meanwhile, Maliki's party has retained its lead in seven of Iraq's 18 provinces — two more than what al-Iraqiya has conquered.
Earlier, Allawi was ahead with 8,000 votes. Maliki, thus, had called on Iraq's Independent High Electoral Commission to manually recount the ballots, saying the measure would "protect political stability … and prevent a return to violence."
The commission, however, rejected any wholesale recount, saying it would only carry out "recounts at particular centers" at the request of the protesting parties.