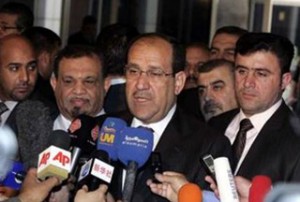 Early results from Iraq's general elections show Prime Minister Nouri al-Maliki's coalition having a wide lead in the southern oil hub of Basra.
Maliki's State of Law coalition had 219,657 votes compared to 121,497 for the Iraqi National Alliance.
Iraqiya, led by former Prime Minister Iyad Allawi, had 36,093 votes. The totals represented 63 percent of the vote in Basra Province.
The electoral commission's Sunday announcement comes one day after results showed Maliki's Law of Coalition leading in the capital Baghdad.
Initial results since Thursday have put the Rule of Law in the lead in the predominantly-Shia southern provinces of Najaf, Babil, Karbala and Muthanna.
More than 6,200 candidates from six major coalitions and several other tribal and minority groups contested the parliamentary elections on March 7, despite the prospects of violence and fear of subversion on the part of the loyalists to Baath — the outlawed party of the former Iraqi dictator Saddam Hussein.
The event kicked off following the disqualification of suspected Baath sympathizers.
The elections day also saw more than 30 people killed in violent attacks.