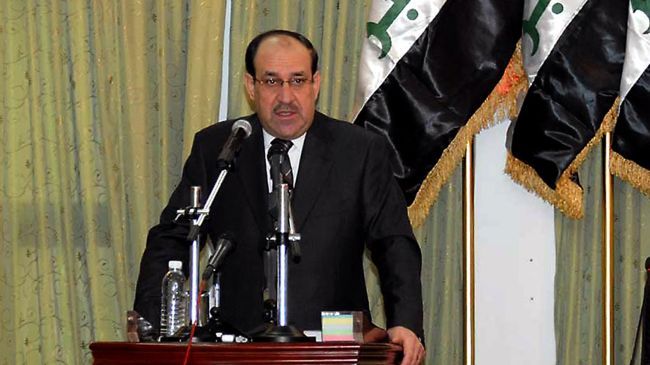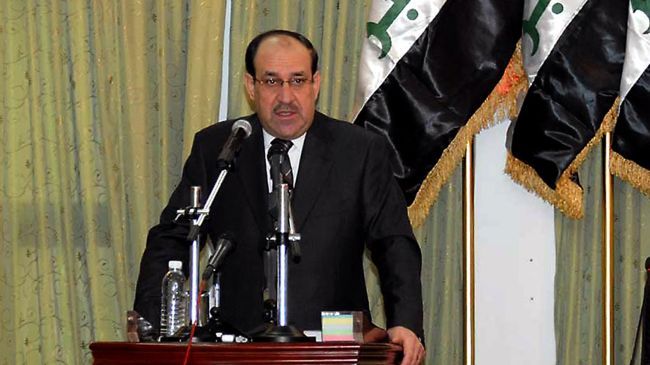 Iraqi Prime Minister has called on the residents and tribal members in the western city of Fallujah, in Anbar province, to expel the terrorists who "have infested" the city.
The cities of Fallujah and Ramadi in Anbar province have been the scene of deadly clashes between security forces and the al-Qaeda-affiliated militants over the past days.
Iraqiya state TV reported on Monday that Nouri al-Maliki urged "the people of Fallujah and its tribes to expel the terrorists" so that "their areas are not subjected to the dangers of armed clashes."
Al-Maliki's comments come as government officials have started talks with tribal leaders to seek their help in repelling the militants in Anbar Province.
On Sunday, over thirty people, including soldiers and civilians, were killed in clashes between Iraqi security forces and al-Qaeda-linked militants in Ramadi.
Earlier in the day, Iraqi jets launched an airstrike against the militants in the city on the Euphrates River, killing 25 al-Qaeda-linked militants.
Iraqi security forces are preparing for a major attack on Fallujah. Special Forces conducted several operations in the city on Sunday.
The fighting left more than 100 people dead in the two flashpoint cities on Friday, security officials said.
The violence broke out on December 30, 2013, when the army removed an anti-government protest camp in Ramadi. Authorities said the camp was used as "headquarters for the leadership of al-Qaeda."